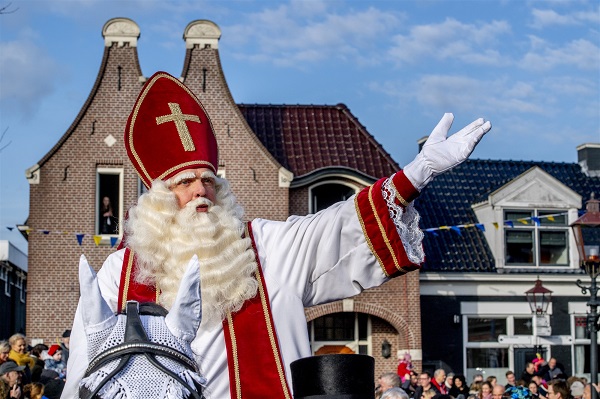 We understand that Christmas is all about traditions, but when I (Merewyn, creator of the HD8 Network) lived in the Nederlands, I learnt about different Christmas traditions and found out about Sinterklaas.
This guy is a bishop that rides a horse through the towns, with his 'helper' giving out sweets.  If you want to find out more about that, it is an interesting tale, especially the Dutch attempts to normalise it.
The legend has it that Sinterklaas sets off on a boat from Spain on the 11th November, and the children (when I lived there) watched the journey on the tv – now I guess it will be apps on phones ….  and he comes to the houses of the children who put a shoe by the front door.
When the child hears the knock at the door, they race to see who is there and then by the fire place in the main room, they would find a chocolate, in the shape of the letter of the child's first name …. Or something like that … and this all happens on the 5/6th December.
We know our Christmas this year is going to be different, so how are you going to make the best of it?
Let us celebrate, but in moderation up until Christmas Day – The Dutch have their big dinner on Christmas eve – but there is no way I am giving up my Christmas Dinner, all 75 courses of it!
However, lets spread-out the Christmas cheer.
Yes, throughout December, but also amongst our local community as well.
Shop local, buy less, but buy more into the local people that produce these items, and provide the services we all depend on to have a comfortable life.  Because that is what important; being comfortable and surrounded by others who also are.
Black Friday and Cyber Monday are great for deals, but while you are shopping online this Christmas, why don't you also check out the amazing things available in our local area at the moment, which are available for delivery or click and collect locally in the HD8 area.
The HD8 Network offers you a platform for communication and we have a plethora of businesses who want to tell you about what they have to offer.
The Christmas Virtual High Street has, and would love to have businesses like –
Jane Middleton Art
Mollies Cards and Gifts
Origins Card and Gifts
Sophia Rita Boutique
Dare Boutique
Bloomingdale Signature Florists
Watering Can
New businesses are being added all the time and will be featured on our social media as well.
Plus
Also look out for other wonderful events and promotions happening this Christmas.
If you are organising any of these wonderful events, please feel free to add them to our events calendar and reach more people.