Jane Middleton Art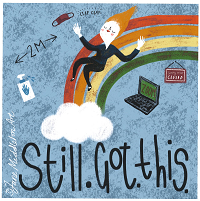 ---
Jane Middleton Art offers:
---
Jane is a qualified art teacher and illustrator/graphic designer. Jane Middleton Art offers the following:
1. Hand drawn Window murals and window art and creative hand drawn signage for local businesses…  Window art is created using acrylic paint and/or postcards pens and can be permanent or seasonal and is easily removed.
Stand out, reach out and help your business thrive by attracting attention to your Windows/shop front /educational setting and walls with a bespoke design, illustration and/or words.
2. Freelance illustration- Jane has an online shop where she sells around 60 products from HD8 tea towels to giclee prints to greetings cards, all illustrated by hand and/or digitally. She also sells her prints and cards at art fairs where she exhibits original pieces and commission work.
Jane offers illustration design for businesses…flyers, logos, web illustration.
Jane is looking for local shops to stock her work at wholesale prices.
3. Art workshops: Jane works in lots of schools around the area providing after school art clubs…
she also offers art classes for beginners or amateur artists (16+) Would your business benefit from a team building, mindful art workshop?
I'm considering holding week day art workshops for adults…follow my page to keep updated