Did you know that Bronze Membership for Community Groups and Charities is Free?
Baby group to Book club, official Football clubs to informal Rounders weekly meet ups, registered Charities to unconstituted groups and everything in between … even summer fairs and art exhibitions …
Bronze Membership provides the member with a basic listing on our website directory showing contact details etc, and the ability to use our Facebook groups.
We only allow members to 'promote' in our Facebook groups, to improve credibility and visibility for everyone.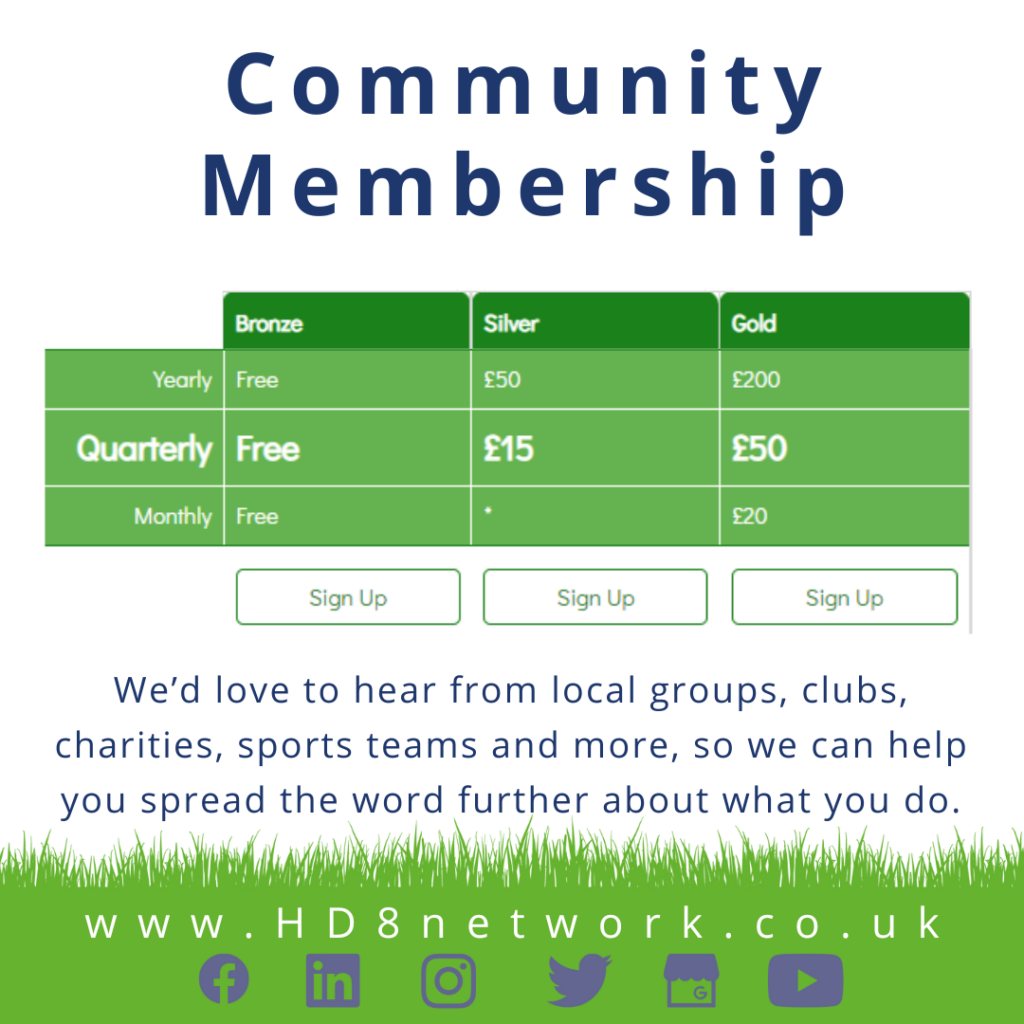 We all know that finding people who you don't already know, is hard. The HD8 Network helps you reach those people, as well as the ones that already do – but via a different channel.
Listings on our website, linking to your own website, can have positive benefits on your own domain authority and findability.
As well as further your reach, especially for fundraisers and updates.
(Our Events calendar is also free for people to list events that are of interest to people who work, rest or play in the HD8 area … but that's another feature …)
Having community members helps the HD8 Network, of course it does, as we have interesting things to share with the people who work, rest and play here and that is our main aim!
We want to help more people to do and buy more locally!
When you set up a bronze membership, we will happily have a zoom call with you, to optimise your listing, and talk you through the other sections of the website, showing the benefits of silver and gold membership – with absolutely no hard sell! But simply so you can explain to others, what we have to offer, at a fraction of the cost of other promotional channels.
Being a paying (Business) member subsidise the cost of community memberships and helps us do what we do for everyone.
Business membership starts from £30 for the year and Gold membership currently costs less than £500 a year.
So, what businesses do you know that should be signed up?
The HD8 Network wants to help more local people do and buy more locally.
Want to chat the concept over? We'd be happy to give you a demo and answer any questions you might have. Book a call here or email info@HD8network.co.uk