The Huddersfield Giants Women In Business lunch event is a great opportunity to catch up with other professional women, entrepreneurs, and small business owners in and around the Huddersfield area.
Compared by MC/comedian Peter Emmett, guest speakers in July are Liz Towns-Andrews OBE from the University of Huddersfield, Dr Ella Russell the 'Yorkshire Menopause Doctor': Diane Andrew of 'Diane Andrew Life Coach':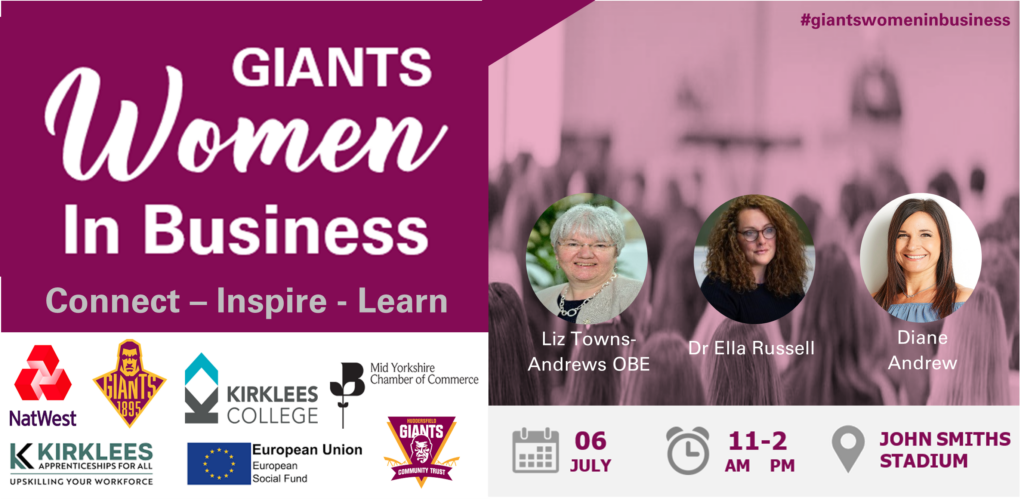 When researching their fan base, Huddersfield Giants saw that over 30% were women. In 2017 they launched 'Giants Women In Business' and held their first event in 2018.
Huddersfield Giants Women in Business aims to give opportunities and networking to business-driven women, delivering insightful, helpful information to be able to grow.
Each of the 3 events held a year, are themed to Inspire Women in Business with motivating speakers, retelling their journey experience and successes, giving tips and takeaways for the attendees to map their own course.
Those who have proudly partnered with Women in Business over the years include NatWest, Kirklees College, Mid Yorkshire Chamber of Commerce, Kirklees Apprenticeships for all & Leeds City Region Enterprise Partnership, alongside Huddersfield Giants Community Trust.
Read full event listing here –
There is free parking at the John Smith's stadium.
A complimentary buffet lunch will be provided with water and T&C's available.
There will not be the facility to buy food or drink at the event.
Agenda:
11:00 Arrival, T&C'S and Take a Seat
11:30 Introduction with MC Peter Emmett
11:40 Guest Speaker – Liz Towns-Andrews OBE
11:55 Guest Speaker – Dr Ella Russell
12:10 Guest Speaker – Diane Andrew
12:25 Guest Speaker – Tania Fares
12:40 Networking
13:00 Buffet Lunch
14:00 Close
*Agenda subject to change
There is a LinkedIn Page 'Giants Women in Business' https://www.linkedin.com/company/huddersfield-giants-women-in-business/ and now a ** NEW Facebook Page ** Giants Women in Business Community – so you can stay up to date with the latest news & events and connect with other likeminded women in business.
Use the hashtag #giantswomeninbusiness
More details about the event please visit –
Magic Weekend is also coming up!!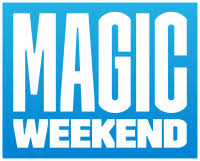 Check out more details here –
https://www.giantsrl.com/article/7873/2022-magic-weekend-fixtures-confirmed-
https://giantsrl.com/article/7884/buy-magic-weekend-tickets-here-
https://giantsrl.com/article/8116/magic-weekend-fan-guide-&-offers
For details about sponsoring the Huddersfield Giants, or to contact the Commercial team for anything else, please visit their directory listing here –