As part of the Great Get Together weekend, Parent Sanctuary this week will visit Stanedge Tunnel, with a walk along the canal and to the river to skim stones.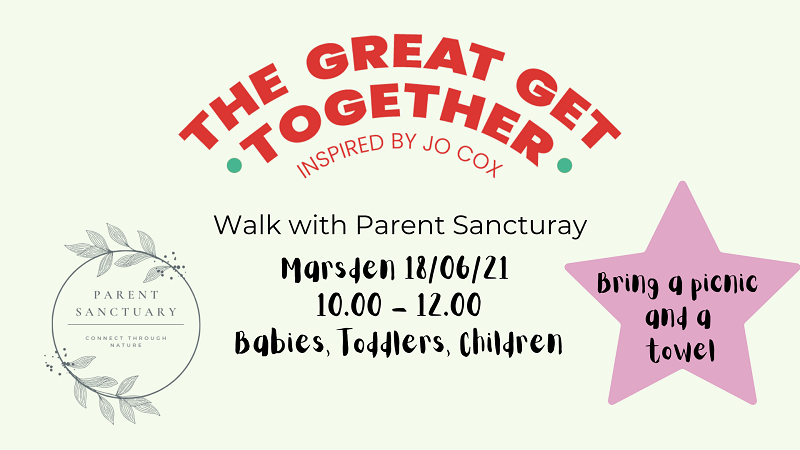 Parent Sanctuary walks are varied in length with some pram friendly and some only suitable for walking children or slings – but don't worry, they have a stock of slings and baby carriers to try on your walk or hire for 4 weeks at a time. 
Their last walk was with the Jo Cox Foundation on Friday the 11th June in Cleckheaton, where they visited the Jo Cox Memorial Wood and listened to guest speakers from The Jo Cox Foundation and Spen Valley Civic Society. 
Jo Cox's values of supporting children and parents, and having more in common than that which divides us rings true with Parent Sanctuary. After the year we have all been through, Parent Sanctuary are proud to be reducing loneliness and isolation, and getting people making connections, being better together and sharing lives with new friends. 
Walks are £1 for the first walk, and £6 following.
They have a nature-based play prompt that helps you bond with your child, allows for fine and gross motor skill learning, encourage language development and provide an understanding of self in the world.
For our parents a child-friendly meditation helps find a moment of calm. 
Parent Sanctuary is a social enterprise committed to supporting the health and wellbeing of parents in Kirklees and surrounding areas.
There are parents meeting with young babies, toddlers and preschoolers who like getting to meet new friends, see different areas of Kirklees and get some gentle exercise in the fresh air.
Parent's Sanctuary also provide workshops in schools and support with crying, colic and allergies.
To find out more please follow them on Facebook and Instagram or get in touch via email parentsanctuary.wy@gmail.com
Booking link – 18th June https://fb.me/e/Foxrzbuf
For more contact details and information please visit their Directory Listing here –