Mindful Nature Walks for Families, helping beat the cost of living crisis this summer.
Parent Sanctuary is pleased to offer mindful nature walks for families during the summer holidays. These walks provide a great opportunity for parents to keep their kids busy and engaged, while also bringing calm, confidence, and joy to the grownups.
We understand that finding activities that are both affordable and screen-free can be a challenge for families during the holidays. Many parents prefer to avoid noisy indoor activities and costly specialist camps. That's why our plan of activities is designed to keep children active, entertained, and learning throughout the summer, while also including mindful meditation moments for parents to help reduce stress.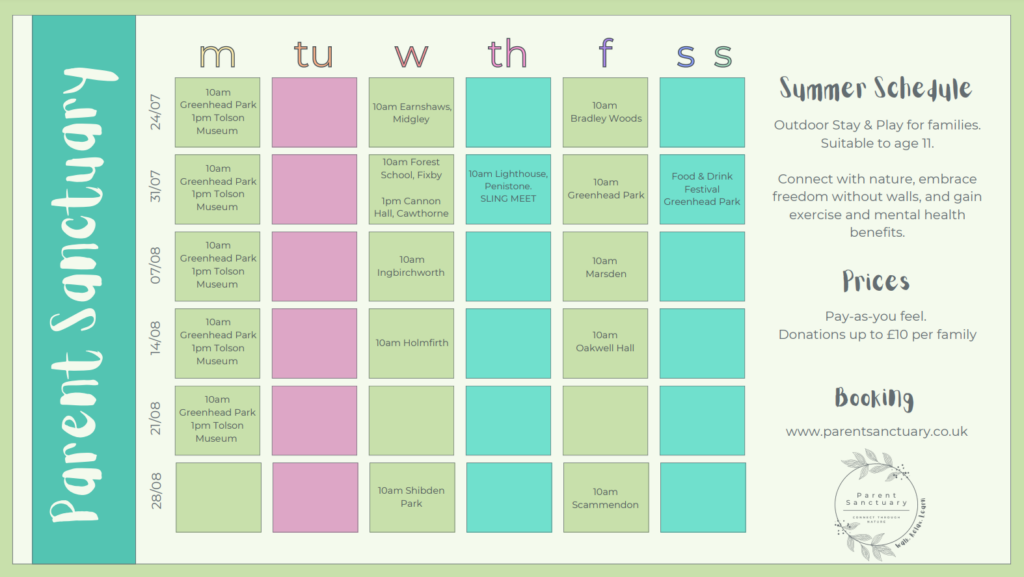 Our line-up of organised nature trails is safe and suitable for families. We invite you to pack a picnic and join us in exploring the beautiful countryside and parks together. Our routes are carefully selected to provide learning opportunities for children about the world around them, encouraging active play and reducing reliance on screens.
Parent Sanctuary CIC is a not-for-profit organisation dedicated to supporting the physical and mental health of families in Kirklees and the surrounding area. Although our work primarily focuses on families with children under 5 years old, we expand our age range to include older children up to age 11 during the holidays.
Research has shown that spending time in nature has numerous benefits, including improved health, better sleep, and a strengthened immune system. By reducing stress levels, individuals become more present and can establish better connections with their children. Additionally, creativity and resilience are enhanced, allowing for more playful interactions.
If you are interested in joining one of our group walks, please book your spot at www.parentsanctuary.co.uk/sessions. We understand that not everyone may have the necessary equipment, so if a carrier or sling is needed for a specific walk, we have some available to borrow.
We look forward to welcoming you and your family to our mindful nature walks this summer!
For more information including contact details please visit Parent's Sanctuary's directory listing –