Students from Kirklees College took part in a Dragons' Den-style marketing assignment with Silver #HD8member recruitment specialists Stafflex.
Huddersfield-based Stafflex teamed up with Kirklees College to put students from the Business Marketing curriculum area through a real-life pitch.
Nemi Alexis, Business Development and Marketing Manager at Stafflex, set students the task of researching and creating a marketing strategy for the firm's Community Sponsorship Programme.
Nemi briefed the students and gave them tips to follow. They were then formed into small groups of no more than four and tasked to come up with ideas for a marketing strategy, with a notional £3,000 budget.
Once they had a strategy, the students had to create an engaging 10-minute pitch, presented in Dragons' Den style to Nemi and Sarah McDonagh, Work Supervisor at Kirklees College.
The students were expected to be ultra professional and had to look the part too, with smart business attire the order of the day.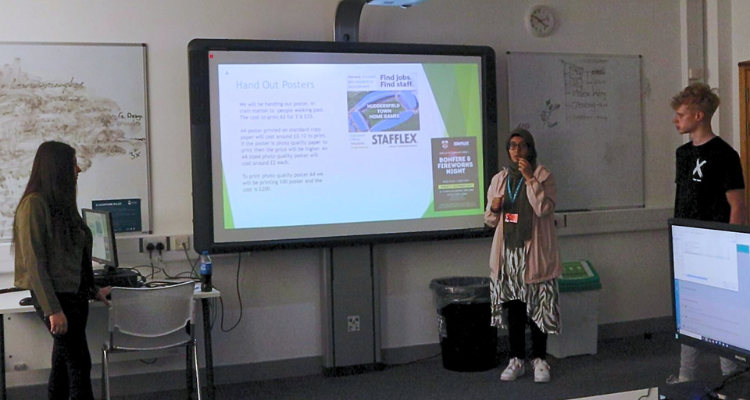 The only thing that wasn't 'real' was the £3,000 investment at the end of it.
Nemi Alexis, Business Development and Marketing Manager at Stafflex, said the event had been a great success and added: "The students were brilliant and took everything on board.
"Each group was so professional and this was just like a real life presentation. You could feel each group really wanted to win the contract and that's just the kind of environment we wanted to create.
"It's tough in business and you have to be professional, have great ideas and delivery and stand out from the competition. Without doubt we saw some great marketing professionals of the future and hopefully we've helped inspire them as they continue their learning journey."
Stafflex is a family-run recruitment business, founded in 2000 by Brian Stahelin. The company believes in giving back to the local community and supports charities, groups and other organisations through a portfolio of sponsorships.
It was that portfolio of sponsorships that students were asked to promote as part of the brief.
Sarah McDonagh, Work Supervisor at Kirklees College, said: "It was amazing to see how the students rose to the challenge and you could see them develop at every step of the process.
"Our work experience team members Kyle Warwick and Emma Whiteley set the students a very detailed brief in collaboration with Nemi, who was then able to provide tips and guidance for every stage and the result was some compelling pitches which would certainly prove successful.
"The students were professional and business-like and they were able to take the theory and what they learned in the classroom into a real life business setting. That kind of experience is invaluable.
"We'd like to thank Nemi and Stafflex for making this possible and helping inspire the next generation of marketers."
This is not the first time the college has worked in partnership with Stafflex to support students with real work experience.
In 2015 Stafflex partnered with the college to develop the 'KC Works' scheme. This joint project provided students with real work experience whilst helping employers create their future workforce.
For more information, including contact details for Stafflex please visit their directory listing here –