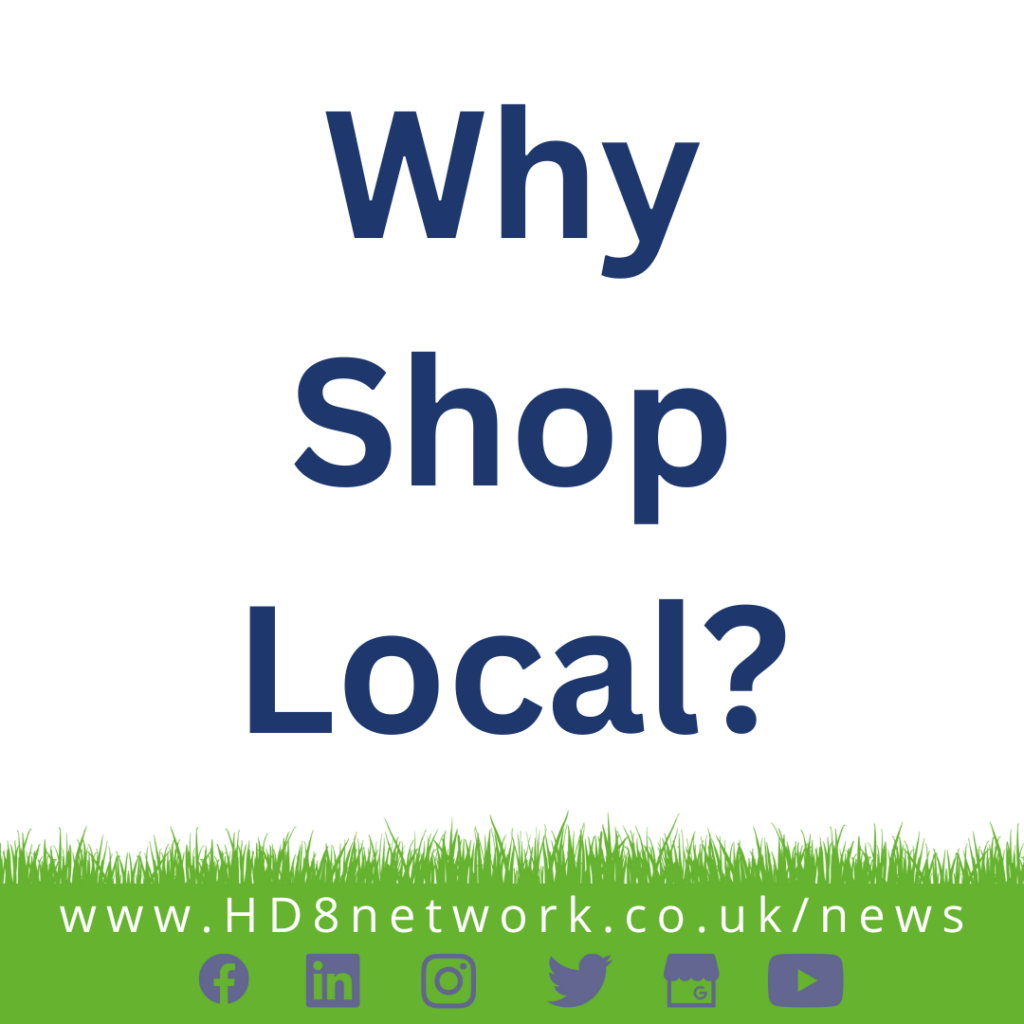 The aim of the HD8 Network is to help more people do and buy more locally. We are passionate about the local area. We love our villages and the people, businesses and other organisations that are here. We want to help people that work, rest and play here find the things they want, locally. But does Shop Local mean?
"Shop local" is a movement that encourages people to buy goods and services from local businesses in their communities instead of large chain stores or online retailers.
The idea behind this movement is to support small businesses and keep money within the local economy.
When you shop local, you are supporting the people who live and work in your community.
Local businesses are often owned and operated by individuals or families who are passionate about their products and services, and they are more likely to reinvest their profits back into the community.
In contrast, chain stores and online retailers are usually owned by large corporations, which may not have a vested interest in the well-being of the local community.
In addition to supporting the local economy, shopping local can also have other benefits.
Local businesses often offer unique products and services that you cannot find at chain stores or online retailers.
They may also provide better customer service, as they are invested in building relationships with their customers.
Overall, shopping local is a great way to support your community and help small businesses thrive.
So next time you need to make a purchase, consider checking out a local business instead of heading to a big-box store or shopping online. And the HD8 Network is here to help you do just that.
For example if you are looking for DIY, decorating or other bits for around the house check out Scissett Home & DIY store.
We have a directory of members, as well as a Virtual High Street for you to find local shops, suppliers and producers, as well as an online events calendar for activities that are happening here, and in surrounding areas.
We also run active social media communities to share our message as well as our members. Find and Follow us, we'd love to interact with you there – https://www.hd8network.co.uk/social-media-communities/
We offer two types of membership; one for businesses, and another for charity and community groups – essentially they are the same, but with different price points. As well as a way to promote your business, being a Business member helps us to subsidise the cost of our community membership, helping you to actively support your local community and the activity that is crucial for a healthy and happy society.
There are then three levels of membership; Bronze, Silver and Gold. If you would like to find out more about our memberships please visit – www.HD8network.co.uk/join/ or please get in touch.
If you have events or activities that you would like to tell people about, please upload your details on this very quick and simple form – www.HD8network.co.uk/add-your-event/
'Shop Local' underpins everything we do, and we are always looking for ways to improve our offering, adding value to you, the people work, rest and play here.
If you would like a demo of our platform please book a session here