Birdsedge First Wrap Around Provision.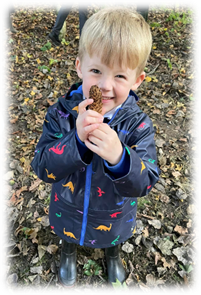 We LOVE the Outdoors here at Birdsedge First School and really value having a rich Outdoor Curriculum for all children. This is something we extend into our Out of School and Holiday Club 'Forest Friends' too.
The Club is open every day 7:30am – 8:45am and 3:30pm – 6pm and is something we have worked hard to grow over the last couple of years.
Our first addition was offering some fun Holiday Club days which we first started in Summer 2021.
Our second addition we are so excited to be starting is our 'Tree Tots' group.
A weekly session aimed at 2 – 4 year olds and their parent carer. Both the Club and Tree Tots is run by Leanne, our newly trained Forest Schools practitioner who loves bringing fun to the outdoors.
Whenever we can and where there is a large enough need for families, we run some Holiday Club days in school.
These will be communicated in advance of each school holiday for families to sign up by using the Club phone number or via email.
We have a number of booking options to try and meet the needs of families as much as we can:
Holiday Club Full day 8.00am -17.00pm
Individual Child £24.00 Siblings £20.00 each.
Breakfast and afternoon snack provided, children to bring own Packed Lunch.
Holiday Club Half day 8.00am–12.30pm
Individual Child £16.00 Siblings £13.00 each.
Breakfast provided.
Holiday Club Half day 12.30pm-17.00pm
Individual Child £16.00 Siblings £13.00 each.
Afternoon snack provided. Children to bring own Packed Lunch if they wish to eat when they arrive.
£22.50 per day Siblings £19

Follow our Facebook Page and visit our Website for updates regarding Holiday Clubs.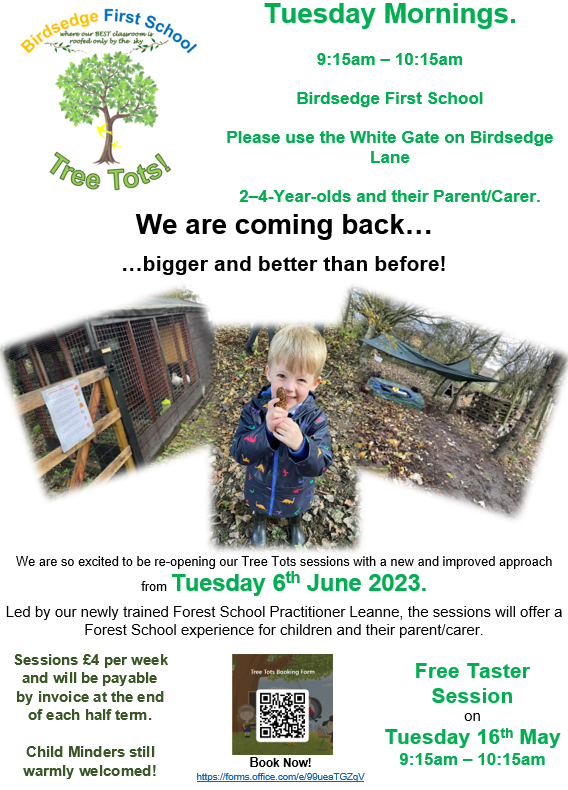 We are so excited to be re-opening our Tree Tots sessions with a new and improved approach from Tuesday 6th June 2023.
Led by our newly trained Forest School Practitioner Leanne, the sessions will offer a Forest School experience for children and their parent/carer in our brilliant Birdsedge Grounds.
We have a Free Taster Session on Tuesday 16th May 9:15am – 10:15am
For more information including contact details please visit Birdsedge First School's Directory listing – https://www.hd8network.co.uk/directory/birdsedge-first-school/