Ok so we are once again hitting peak wedding season so Enterprise Print thought they'd share a few tips to try and help brides to be …  get organised with their printed stationery.
First Tip – Be prepared
If you are calling in to see us, make sure you've thought beforehand about what items you're going to be wanting.
As a starting point maybe along the lines of: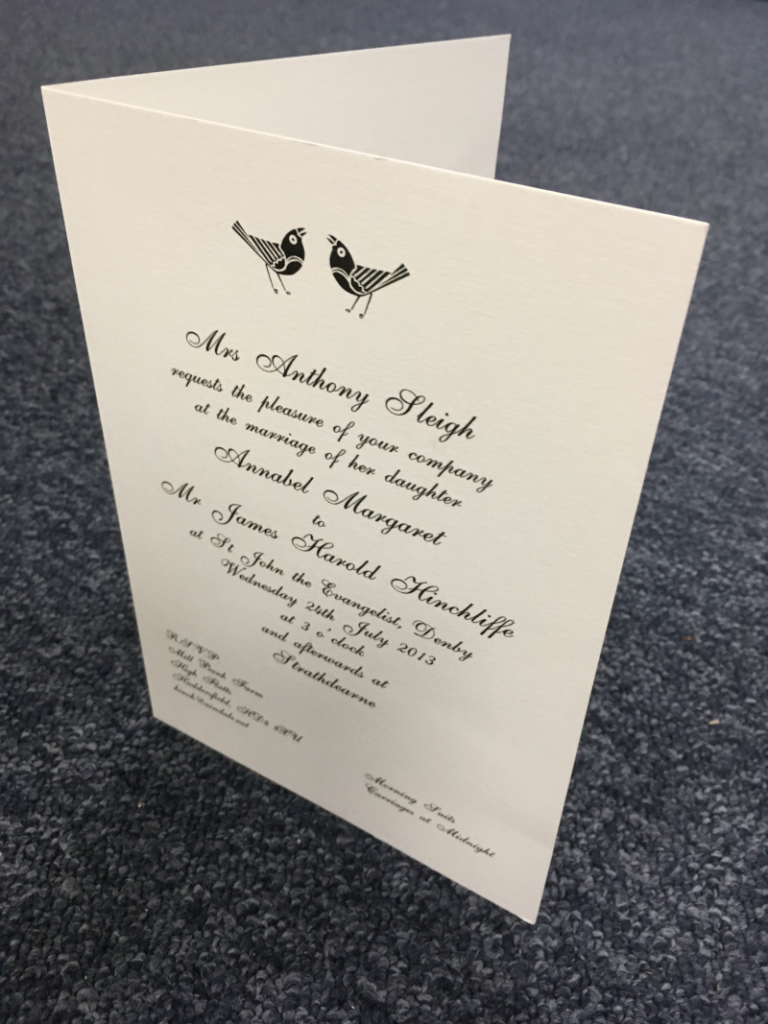 Save the Date Cards usually followed by Day and Evening Invites along with some kind of Information cards that have Dietary requirements,
Places to stay or Directions to the venues.
Then for the actual Day, an Order of Service a Seating Plan, Menu's and Place Cards.
Then maybe to finish a Thank You card.
Hopefully you will have an idea of the kind of design you are looking for – look out for images of things you like or have seen and point us to web pages, bring pictures, or even samples of other people's that we can maybe adapt.
If you have an idea of what you are wanting it's much easier for us to come up with proofs for you.
The days of Wedding Sample Books that we all used to have pretty much ended 15 years ago.. everything is now online.
Once you have an idea of the items you want and a rough idea of a design its time to call in and see us .. don't forget to bring along times, dates and venue's … as without this info we can't really begin to start sorting proofs.
Tip 2 – Allow plenty of time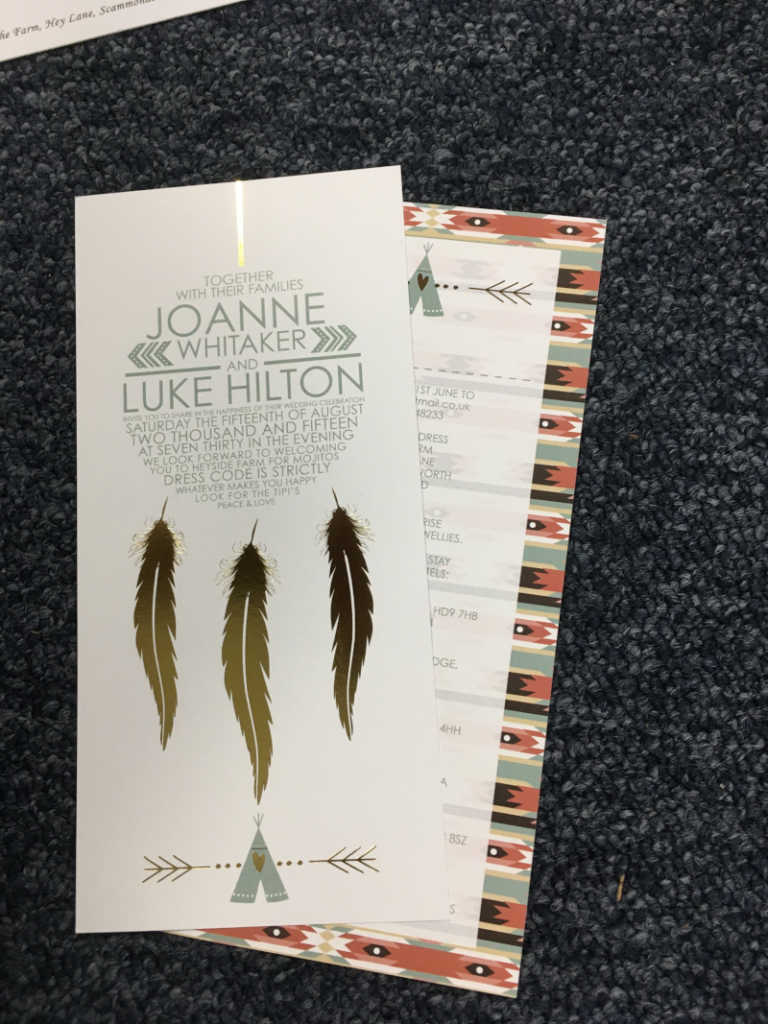 Usually for their wedding stationery everyone is looking for something a little bit different – or something to match the wedding colour scheme .. and anything that's a bit different is not usually a stock item that we keep on the shelf, so ordering Card samples in from suppliers usually takes at least a week and that's before we can even begin.
Many of the different processes that make stationery different are old fashioned processes – such as Foiling or Embossing – and again – it's a slow process – these things are not part of the new quick "digital era"
These kinds of finishes typically take a couple of weeks to produce.
So turning up a month before a wedding and wanting something that's not pretty basic just isn't going to happen.
Tip 3 – Order as much as you can all at the same time – and try and keep separate items in a uniform format to save money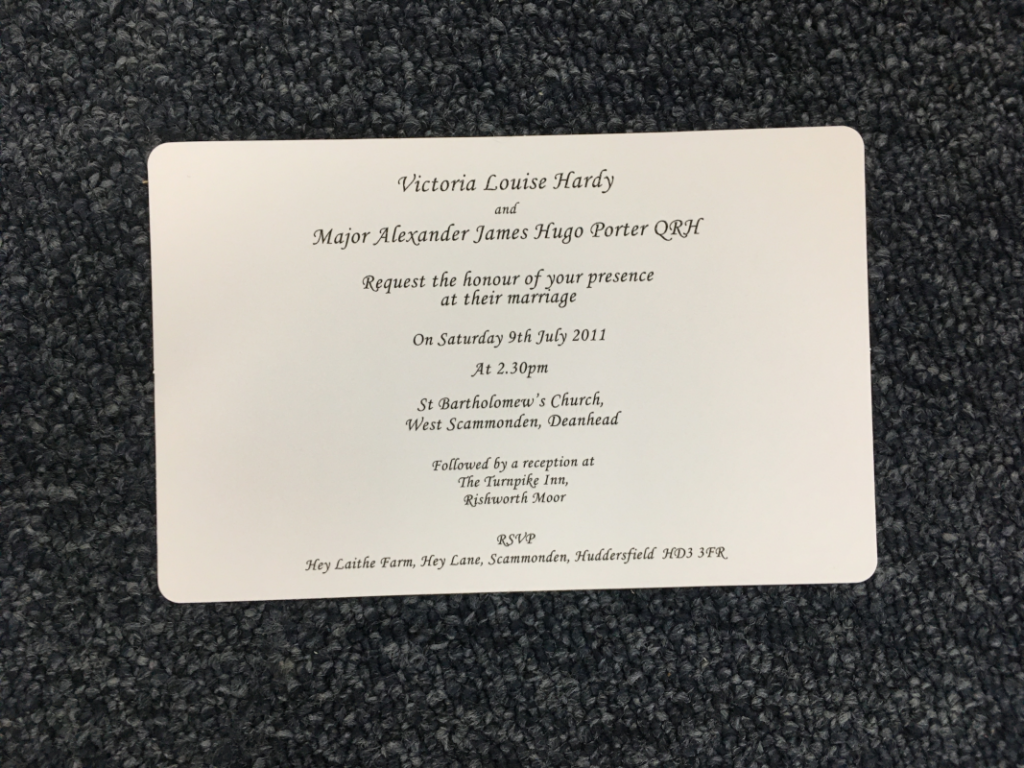 A typical wedding maybe has 30/40 guests for the Day and 80/100 for the Evening reception. For printers these are relatively small quantities and often we spend as much time setting up machines as we do actually processing the job, so the more items you order together the less time we have to spend setting up each job separately.
If you are going to have a foiled or embossed logo on your stationery – then try and keep the foiled/embossed section the same on each item of stationery – that way its just one block and one set up cost for multiple items. If Invites are scored & folded then if they are the same size – again they can be done together at the same time.
Tip 4 – Budget
Wedding stationery doesn't have to be expensive, but you need to set your expectations.
In its simplest format if you just go for a sheet of card that's scored down the middle – and printed on both sides in colour then this isn't going to break the bank and you can probably get a whole suite of wedding stationery items for less than £100 –  however – as soon as you start to embellish then the cost can increase by a lot really quickly. A typical process such as Foiling or Embossing or cutting out a shape will likely add a minimum charge of about £100 per process – So if you want something really fancy then it's easy for your wedding stationery to take a big bite out of the budget
For more information including contact details please visit Enterprise Print's directory listing –