HD8 Network are so pleased to announce that Huddersfield based recruitment agency Stafflex this month have signed up and become a #HD8member
Stafflex has gone from strength to strength in recent years having celebrated its 20th anniversary last April and only recently invested £140,000 into an office refurbishment at their headquarters on Chapel Hill.
They have also recently refreshed their branding, delivering a new strapline, as well as new logos for their industrial, office, education and engineering divisions which will be used alongside the original.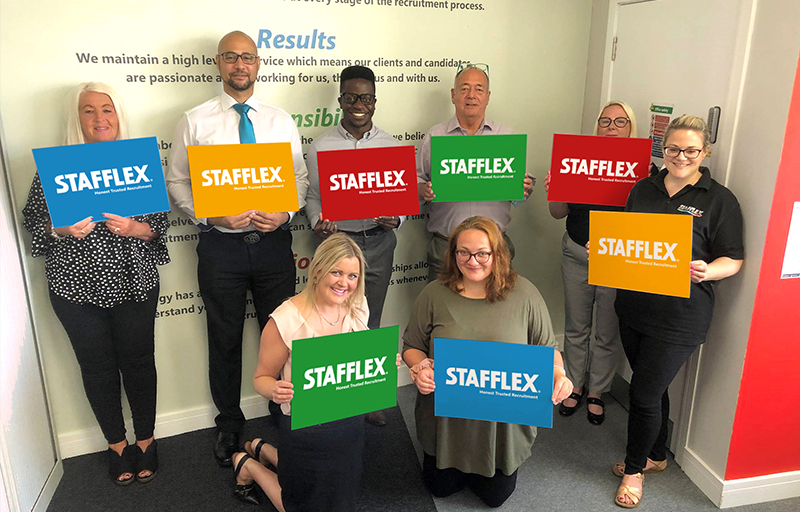 The rebrand is intended to better communicate the attributes of the business's well established brand and its core values in response to accelerated growth and a renewed focus on its strategic vision.
Nemi Alexis, Marketing Manager at Stafflex, said: "Now that our 20th anniversary campaign comes to a close it's the perfect time to unveil the brand refresh and look towards the future."
"We wanted the rebrand to represent 'who we are' and 'how we work' rather than 'what we do' and I think we have achieved that with the new branding elements."
"It was important not to lose sight of our own brand identity but at the same time we needed an alternative version which could be used across multiple platforms when the original isn't suitable."
"I love the uniqueness of our logo which was originally illustrated by a local artist over 20 years ago but we have to future proof the business as we look to expand into growing sectors."
The engineering division which is Stafflex's latest venture into emerging markets is now recognisable with a bold orange colour which the business hopes will improve brand identity and give the division a platform to build upon.
The new strapline 'Honest Trusted Recruitment' was a result of extensive research including various surveys and questionnaires aimed at the businesses' clients and candidates as well as their own employees. This insight into how people described Stafflex helped form the basis of the new strapline.
The new alternative logo is essentially a stripped down version of the original – keeping the instantly recognizable hand drawn typography and then updating into a neater and more manageable version that can be used in a digital environment.
For more information, including contact details please visit their directly listing here –