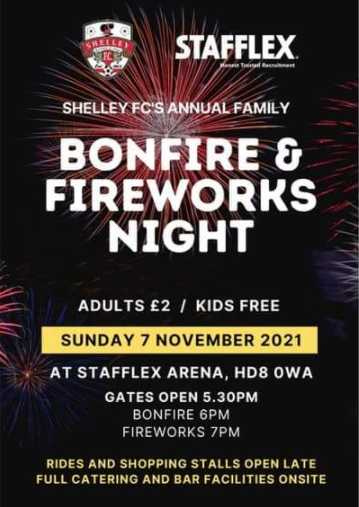 The ninth annual bonfire is organised by Shelley Community Football Club (CFC) in partnership with Stafflex who sponsor the stadium, Stafflex Arena.
Unfortunately the event was cancelled last year due to the pandemic which affected both the club and Stafflex as well as many other organisations. It is an important event on the annual calendar as it raises vital funding for Shelley CFC to help with the running of the club.
The bonfire takes place in a unique woodland setting at Stafflex Arena, Storthes Hall Park and is always eagerly anticipated by the local community.
The club has been based at Storthes Hall for five years and now runs 24 junior teams, four adult teams and three disability sides. It is also home to Huddersfield Town Ladies.
Will you be going? If so, please share your photos and positive reviews of the event on social media, by tagging @HD8network in your posts!