Wow! You really wanted to know where the fireworks were this weekend!!!
Over the past few weeks, we've noticed the 2015 Shelley Bonfire event listing appearing in our weekly Top Ten analytics reports – meaning people were searching for bonfires in the area and arriving on our website.
So we contacted our #HD8member Stafflex as we knew there was a bonfire at Stafflex Arena, run by Shelley FC.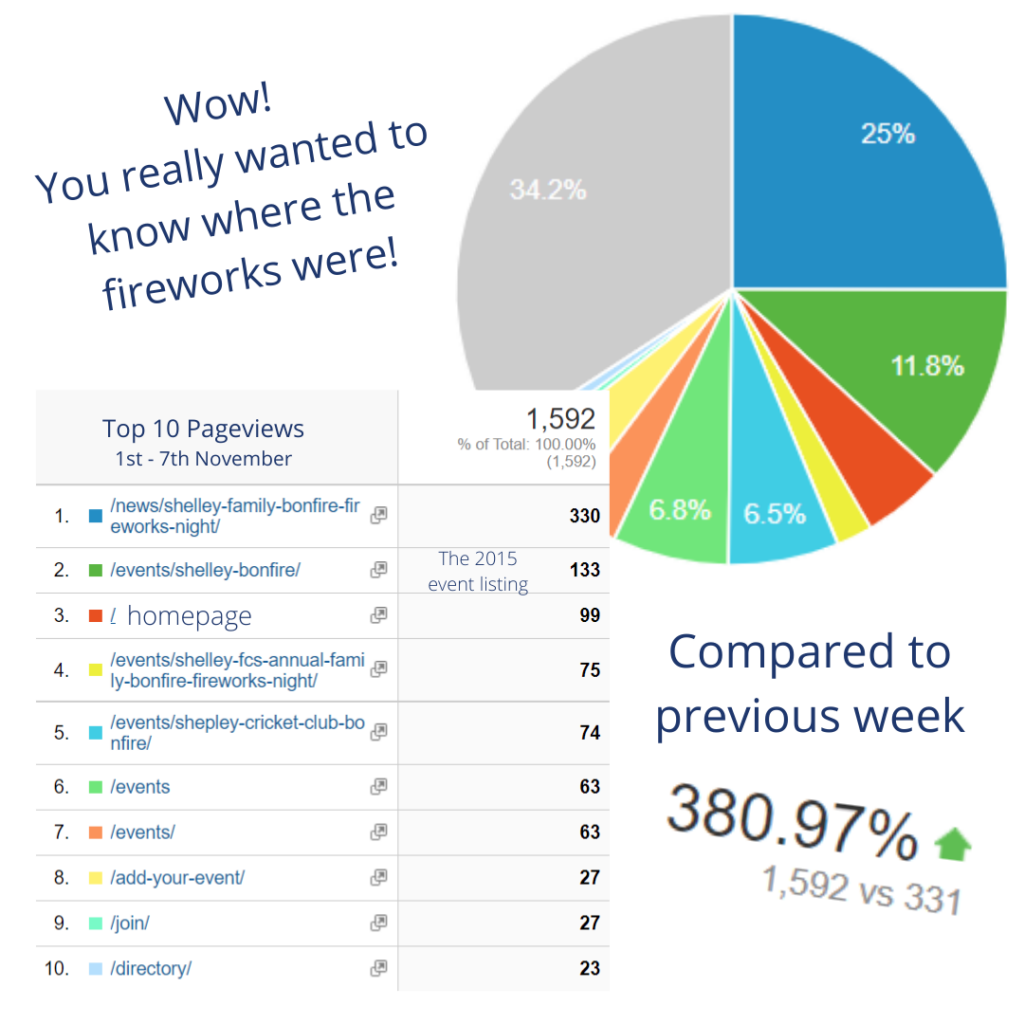 We spoke to them and invited them to add this year's event to our calendar.
We also noticed a Tweet from Shepley Cricket Club advertising their bonfire, and replied, telling them about our Events Calendar, inviting them to add it to Events calendar – which they did.
Then we posted on said on social media that we had bonfires listed on our Events Calendar and our Analytics machine went frantic!
Through this activity we were able to reach more bonfires and get them added as well.
When we checked our Analytics, preparing to do our weekly reports, we noticed that there had been a 381% increase of PageViews last week, compared to the previous week.
This is incredible – that's roughly equivalent to a months worth of PageViews in a week!
So we now want to know, what other events, activities or information you want to find out?
Our aim is to be the place people turn to whether they Work, Rest or Play in the HD8 area.
So tell us what you are looking for … and if you're holding an event please list it on our Calendar – it is free and really simple to do.
We also offer other promotional possibilities, but there's no obligation to consider these.
To add your event please visit – www.HD8network.co.uk/add-your-event/
To find out about our membership options please visit – www.HD8network.co.uk/join/
The HD8 Network is a platform for communication in the #HD8 area of #Huddersfield #WestYorkshire – whether you work, rest or play here.
If you want to find out what we mean by Work, Rest or Play please visit – www.hd8network.co.uk/work-rest-play-hd8-area/