Earlier this month the HD8 Network organised a photoshoot with the amazing John Steel Photography, inviting members and other organisations that are involved with the HD8 Network or who 'Work' in the HD8 area to come along and have their picture taken.
We used John Steel Photography in 2015 when we built our website, however recently, when designing a pop-up banner for the She Means Business Instagram Workshop that we hosted in June – delivered by Social Progress – we noticed that some of the images were out of date; One business has recently retired and closed their company, another has relocated to Sheffield and others had pursued different avenues in their careers.
So we realised that we needed new images that were representative of the people who currently Work, Rest or Play in the area.
To provide continuity from the previous photoshoot and existing catalogue of images, we asked our 'models' to bring props that illustrated their business.  For some this was incredibly easy – for example the Roofer and the Marquee Hire Company – however the services, particularly the online services, were much harder and required much more creative, out of the box thinking, but we got there.  Can you can guess correctly what they do …?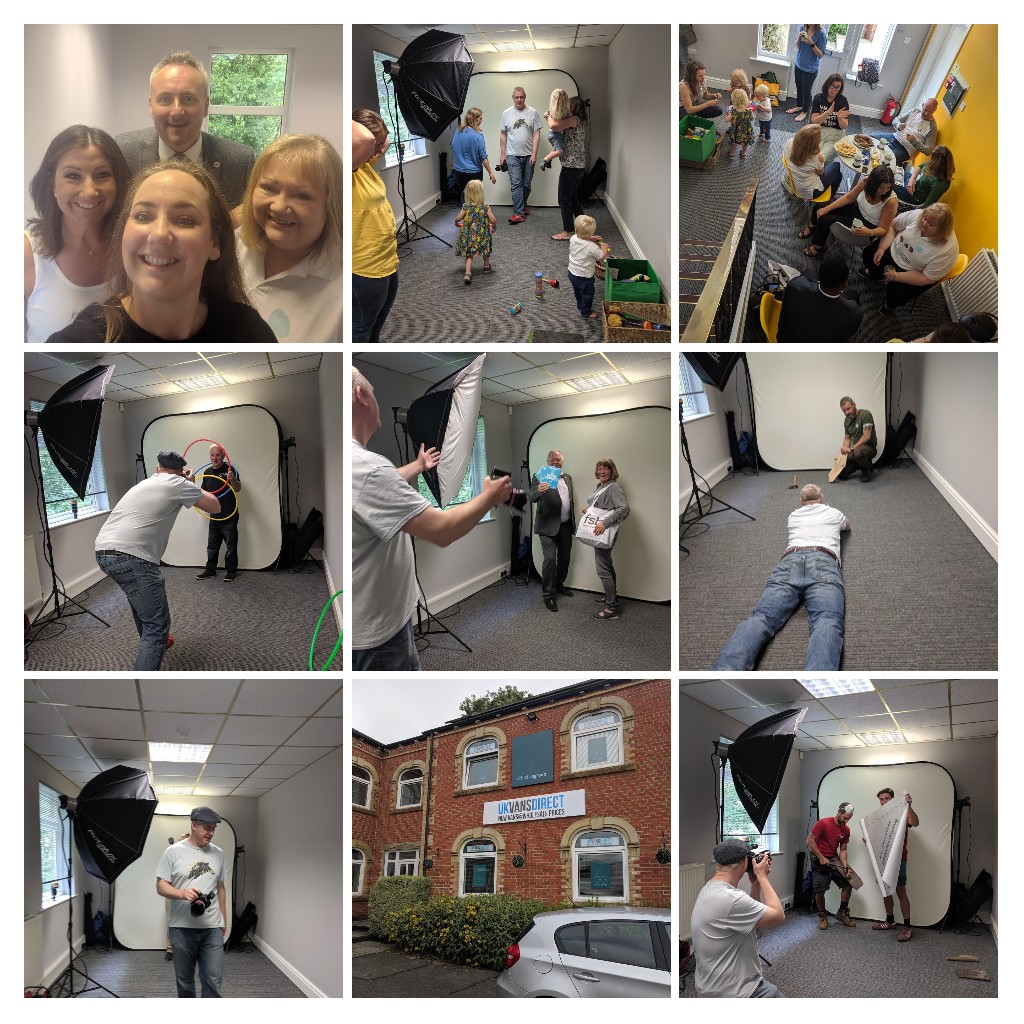 We also asked our models to bring their amazing smiles and told them this was a fun shoot, with lots of energy and not your typical 'professional' corporate headshot.
The morning was VERY busy, with some people just being able to pop in, squeezing it into their busy working day and others staying for longer and using the time to network and build relationships with the other people that came along.  Jo Cove from 'Made in Clayton West', a local community organisation, said the atmosphere was buzzing and that there was a great bunch of people.
Member and regular attendee of our monthly Meetup networking events, Paul Campbell from the Effective Group, was kind enough to let us the use their new offices at Westleigh House in Denby Dale for our studio.  This was the perfect venue and we thank them enormously.
We are very grateful to everyone involved who came along and made the day super special and more importantly for creating such fantastic images.
However, of course we give all our thanks to the very talented John Steel, who used his own unique personality and banter to get the best out of the models and produce the most amazing photos.  Thank you.
We will be using these photos in our future promotions and literature, so keep a look out for this.  We had so much fun organising and arranging the day, and have a long list of people that would have loved to have been involved but weren't able to, that we would like to do another soon.
The people and businesses featured, in no particular order, include –
Lisa B Beautiful
CJP Roofing
The Cleaning Fairy
Into the Woods
The Friends of CHaT Parks
Think Forensic
Stephen Knight Marquee Hire
Spider Ninja
NL&M Hardy Agricultural Contractors
T-Rex Media
Federation of Small Businesses (FSB)
and of course ourselves, the HD8 Network
If you would like to feature in these photos or even arrange for a photoshoot at your own premises then please do not hesitate to get in touch.
Want to become a member of the HD8 Network please visit our Join area for more information or get in touch.
Stay in touch with our activities by coming back regularly to our website, check out our social media channels and subscribe to our mailing list (using the form at the bottom of most pages on the website).