Come and join Birdsedge School with special guests for an evening of pampering and prosecco
Tickets are £7 each, this includes a drink & nibbles and the opportunity to browse some local boutiques including Denbies Candles, Be You Boutique, Sophia Rita & Rosiejade Accessories, Soapy Swann.
Event tickets must be bought in advance.
Please see below a list of treatments on offer.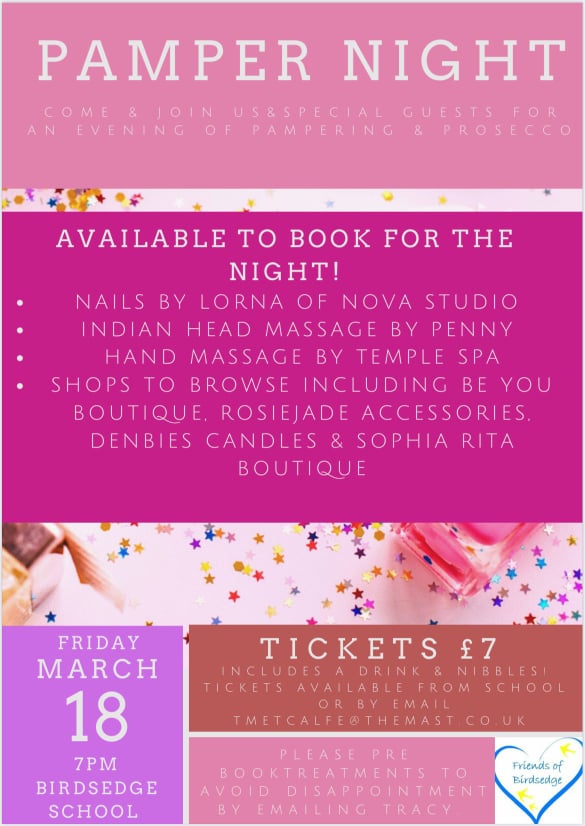 Treatments are available to pre-book these include: –
Gel Nails by Lorna of Nova Studio
£18 for a 30-minute slot
Massage by Penelope.S
£12 for a 15-minute treatment of your choice: –
Head – Back – Hand & Arm – Facial Massage
Reflexolgy/Foot and Leg Massage

Hand Massage by Meghan of Temple Spa
Brows by Lauren Baillie of Nova Studio
Wax 15-minute treatment £7
Wax & Tints 30-minute treatment £12
Lash Tints £6
Lip/Chin Wax £3
Requests to be made directly through Birdsedge School Facebook page or by email tmetcalfe@themast.co.uk
Payments for all treatments to be made to the therapists directly on the night.
Limited space is now available for Lorna of Nova Studio