Former Highburton Pupil Rows the Atlantic Ocean to Tackle Gender Inequality in Sport
Victoria Evans is currently on an epic 3000 mile journey in an official Guinness World Record attempt to become the fastest female to solo row the Atlantic Ocean.
3000 miles. 1.5 million strokes of the oars.
Everyone has their own ocean to cross.
In her own words "I never imagined that I'd take on a challenge of this magnitude. It's completely beyond my previous definition of who I was, but an endeavour on this scale provides a fantastic platform"
After three years of focused training and qualifications, and a 12 month postponement due to the Covid travel
restrictions, local girl Victoria and her boat True Blue launched from Tenerife on Friday, 11 February.
She's had a fantastic start so far, and has already covered more than a quarter of the crossing.
In one 24 hour period alone she rowed 82 nautical miles, which is a phenomenal speed.
Victoria is aiming to reach Port St Charles, Barbados, in less than the current world record of 49 days, 7 hours 15 minutes.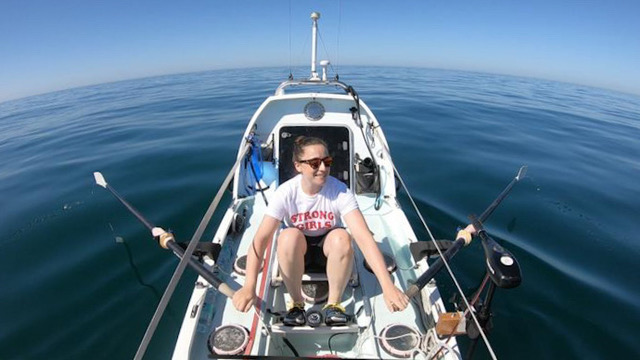 While Victoria is on the water, a number of schools are taking part in Sea Change Schools – a sponsored challenge to help raise awareness about the benefits of sport and being physically active.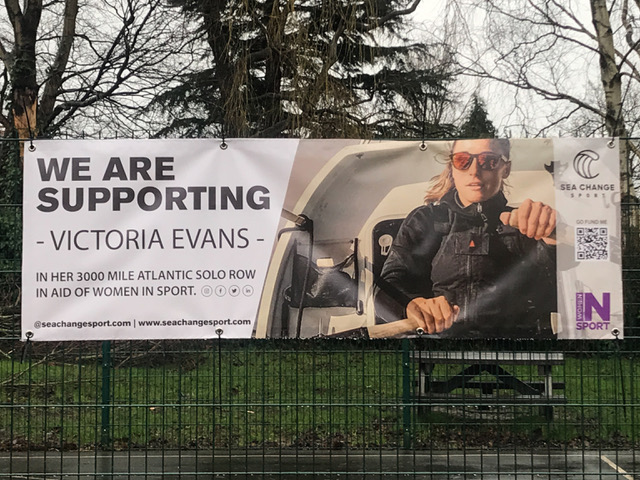 The children in each school are aiming to collectively complete 3000 miles of physical activity. This can be any activity they like – running, walking, cycling, playing football, swimming, PE lessons etc.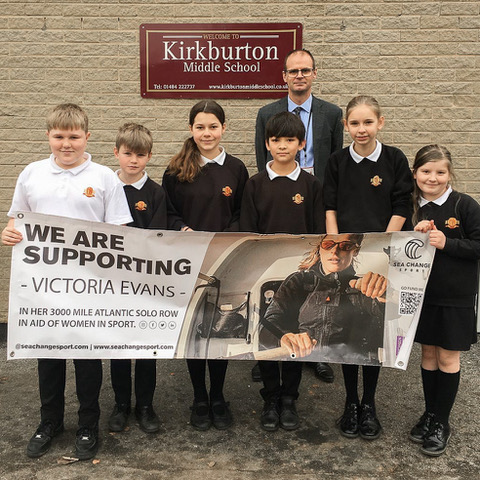 They're also learning more about some of the barriers to participation. Sport England advocate that every child and young person has the right to be active, to benefit from being active in a safe, positive and trusted environment, and to have an equal chance to achieve their potential. Positive experiences at an early age help build the foundations for an active life.
Two of Victoria's former schools Highburton First School and Kirkburton Middle School are both taking part.
Victoria would like to thank local business Mindlabs Media, who created and generously donated the promotional banners for each school.
What an inspiration Victoria is for so many people!
Victoria is a London based lawyer, with a particular focus on sport and media. Having previously worked at ITV, UEFA, Red Bull Media and World Sailing, she is now a Partner at Level – a law firm for specialist media, entertainment, tech and sports lawyers.
"Growing up, I was self-conscious and unfit. Sport seemed like an unobtainable world. In 2012, I qualified as a commercial lawyer. Over the last decade I've worked for a number of sports brands and federations, but it wasn't until I brought sport into my personal life in my late 20s that things changed dramatically.
​
"In 2014, I moved to Switzerland for work, and was integrated into a friendship group of amazing, active women. Weekends were spent hiking, skiing, or cycling. My confidence about physical activity developed to the point where, in 2017, I climbed Mont Blanc, Mount Kilimanjaro, and Gran Paradiso in the space of five weeks.
"Suddenly, it felt that there were things within my reach that I hadn't previously considered possible. I want every woman and girl to unlock these transformational benefits of sport. Yet in both my personal and professional encounters with sport, I've witnessed the multitude of barriers that exist. I want to contribute to changing this landscape."
Victoria is a firm advocate of fairness and equal treatment, and passionately believes that sport at every level should be accessible to everyone, regardless of gender. She is now using the benefit of her experience to ensure that girls and women have clear pathways to both play and govern sport. She created the Sea Change Sport campaign to drive awareness and raise funds for UK charity Women In Sport.
Women in Sport is the only organisation in the UK that researches sport purely from the perspective of women and girls. They use the insight gained to drive change through campaigns and partnerships. The money raised through the dedicated Sea Change Sport campaign will have a huge impact in helping to drive this change. All of the donations to Victoria's dedicated GoFundMe page will be donated to the charity after the row.
Please help get behind one of our own local inspirations with a donation to Victoria's campaign at www.gofundme.com/f/seachangesport and by sharing her story with the aim of inspiring others too!
You can follow her journey on Instagram @seachangesport or on Facebook at Sea Change Sport.