Getting exposure online for your business is more vital than ever and one of the most effective ways available remains to be business directories.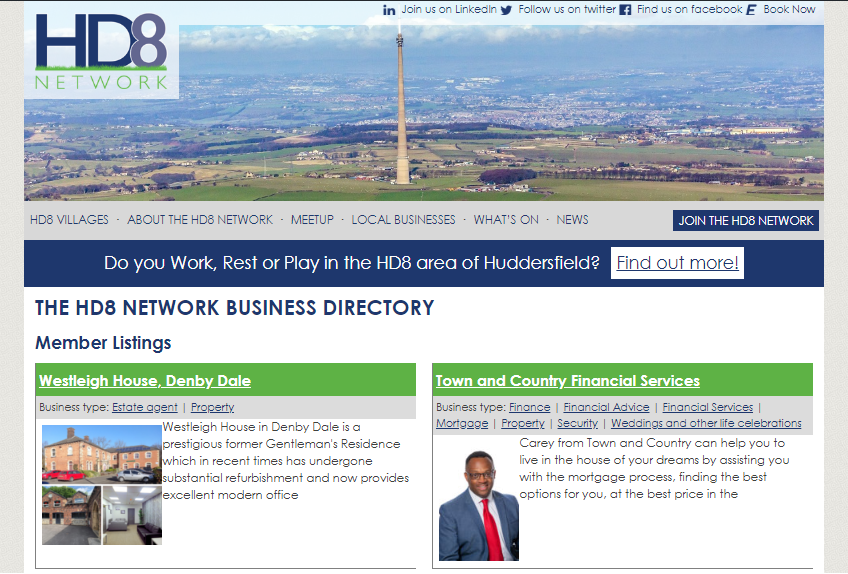 The information age has given you numerous ways to reach your customers that literally did not exist a decade ago, and the online directory listing is one of them.
A company directory listing is a method that stands the test of time and has evolved with the technology around us.  However now instead of listing your business in the big and bulky hard copies of the Yellow Pages or the 'local' magazines delivered through your door, the online directory listing is what you should be taking advantage of, whether you are a large or small, B2B or B2C business.
Putting the required information at the fingertips of the now internet savvy customer.
So first off, what is an online directory listing?
This is a record, on a website, which provides your company information. Normally this information would include contact details, generally have links to your own website or social media, and sometimes include descriptions.
Different directories have varying offerings; at the HD8 Network we offer 2 types of directory listings – Basic and Enhanced.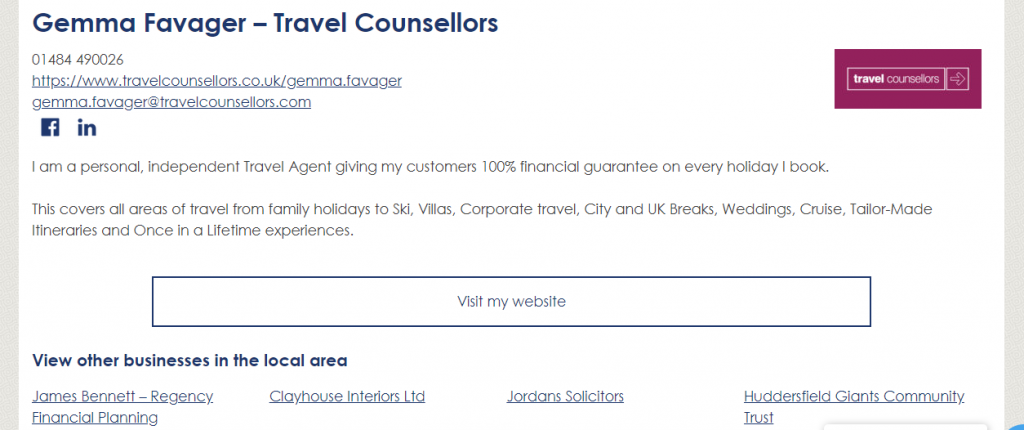 Both of our types of listings include company name, contact details, an image, a brief description and links to website and social media.
Whereas our enhanced listing has space for more description and images, has a larger more visual presence at the top half of the directory page on the website and has more chance of appearing on other pages throughout the website – including individual village pages (for example Denby Dale – click here to see an example)
So, why should you use Online Directories?
Online directories provide you with backlinks to your own website, they are extremely cost and time effective ways to increase your visibility, exposure and discoverability and can improve reputation as well as facilitate reviews and recommendations. But it is imperative that you keep the information there present and up to date!
Backlinks
One of the most important features that online directories, like the HD8 Network, offers you is high-quality backlinks to your website.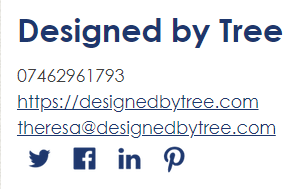 Backlinks are links that take people to your website.
Backlinks from reputable online directories improve your SEO, because online directory listings generally have a high domain authority.
In simple terms;  high-ranking websites + links to your company website = great for SEO.
On top of general links to your website, the HD8 Network also offer you the ability to add a Call to Action button, which you can update.  This is aimed to direct website visitors to a particular place which is bespoke to you.  Here are some of the examples used on the HD8 Network directory listings
The time, effort, and money involved (which is generally minimal) to gain such valuable backlinks will help you to reap the SEO benefits of links from reputable and high-ranking websites.
Quick and Cost Effective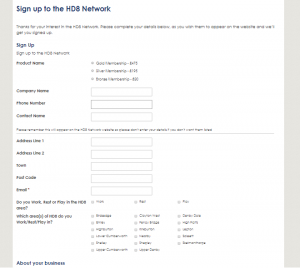 This leads us on to our next point. The process of uploading your details to an online directory is generally a very quick and easy way of gaining exposure for your business – especially when creating a listing on the HD8 Network website.
When you initially create your listing on the HD8 Network, we only ask the very basic information, giving you the option to send on descriptions and images if you want to enhance your exposure.
Within a short time (could be a matter of hours or even minutes if I'm able to juggle the current home-schooling/working from home situation) your listing will be live and available for people to find you.
Visibility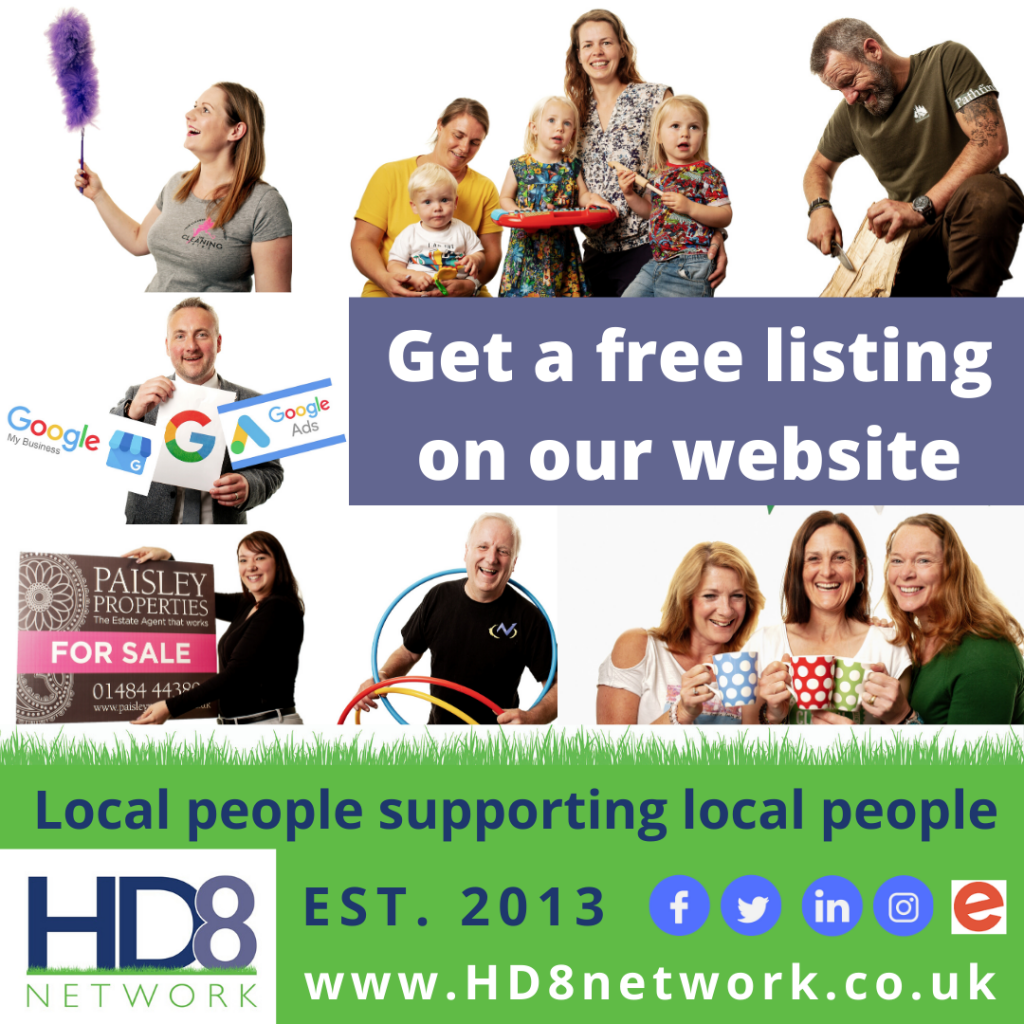 Many buyers prefer to use online directories because the information is usually more objective and concise than marketing copy.
They also use this method as it increases the chances of finding companies relevant to their needs. The HD8 Network assists the searcher to find products and services in and around the HD8 area and supports the ethos of local.
Boosting your visibility online will increase the likelihood that you will get found and your (potential) customers will be able to find your company details, resulting in more business for you!
Improved Reputation
Your business reputation will also be strengthened by using online directory listings.
Directory Listings can also be seen as a seal of approval and a trusted source of information – the HD8 Network try to carry out credibility checks on the businesses who take up membership – and by having a listing on there, it tells potential onlookers that you are also trustworthy, and your business is a high quality one.
Reviews and Recommendations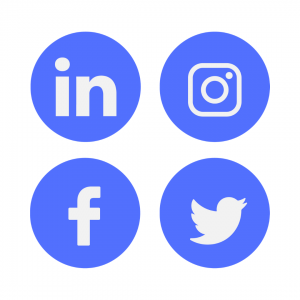 The HD8 Network also provides a plethora of social media platforms, which enables your customers to review and recommend your business, which is an important part of improving your reputation and trustworthiness.
Allowing people to review your company online shows that you value their opinion and you are interested in what your audience think, helping you to build and maintain a positive brand image.
It also helps to show that you are not a fraudulent firm and you are serious about what you do.
Having your business listed on a directory, can also help people to share your details with others online.
Up to date and current
However, a word of warning! It is vital for you to make sure you keep your details present and correct on the listings. We would urge you to keep a record of all the places that you appear and have a directory listing.
It is important to make changes to all the listings that you have when you have a change of circumstance. These could include and are not exclusive to – phone numbers, URLs, and addresses.
This seems so obvious, but there is nothing more frustrating for searchers to find out of date information. It is also not just a waste of time (and money) for you as it just defeats the point but can also actually be detrimental to your business!
In conclusion there are so many benefits for using online business directories for both SMEs and large enterprises alike.
An online business directory like the HD8 Network is absolutely an opportunity that you should be taking advantage of, especially as there are so many other costly and time-consuming methods of marketing available in business today.
They are a cost-effective, time-effective method to increase the reach of your business and a great way to improve your overall brand trustworthiness as well as strengthen your reputation.
Increase the visibility of your business, building backlinks and improved reputation by signing up to become a member of the HD8 Network.
In light of the difficulties that the Coronavirus is creating for local businesses, the HD8 Network would like to offer you FREE Bronze membership (or discount against Silver or Gold membership).
To take advantage of this please use 'CORONA' on the sign up page.
Go to www.HD8Network.co.uk/join/ , select the package for you and then click "sign up now".
Listings will be published as soon as possible (with allowances for homeschooling)
Stay safe people and let me know if you would like to discuss the options