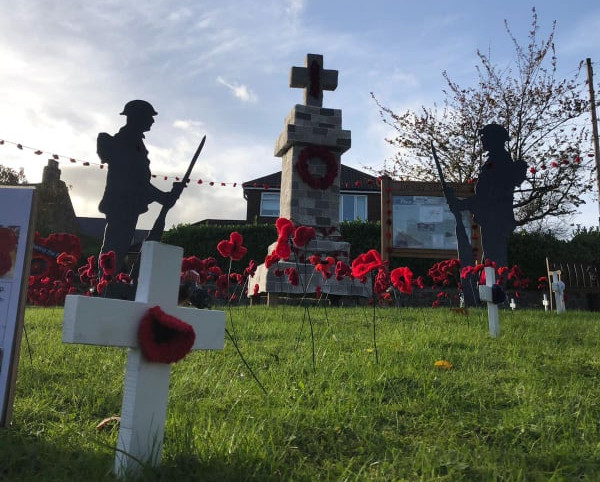 If you venture up to Upper Denby this week, you will be able to admire the work of a group who have been meeting each week, spending hundreds of combined hours knitting and crocheting to create a memorial display for Remembrance Sunday.
Emma Farrington said "Our village doesn't have a memorial or Cenotaph so we decided to make a display to show respect to the Soldiers from our village."
This is the group's second display. Denby Knitters Group was created in the January before Lockdown in 2020, with the purpose of knitting a display for Remembrance Sunday.
This year they have added to their display with an awe inspiring addition – the 8ft Cenotaph. Sally one of the Knitters said "As we haven't got a Cenotaph of our own…. Let's knit one…." and so they did!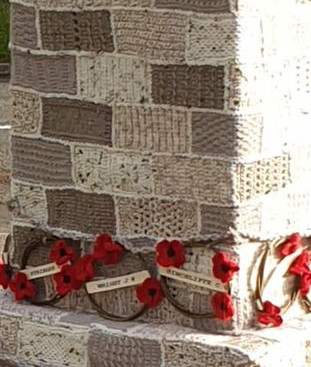 Amazingly, every brick is hand knitted or crocheted and has been crocheted together in contrasting colour to resemble mortar.
There are 28 hand made willow wreaths around the Cenotaph with every local soldier named on each on them.
There have in fact been thousands of poppies knitted!
As well as the display they will also be selling raffle tickets and the knitted and crocheted poppies.
This weekend the group will be at The George pub in Upper Denby on Saturday 12noon to 4 pm selling Raffle tickets and Poppies, and possibly around on Sunday depending on the weather.
The Denby Knitters meet every Friday 1 to 3pm at The George , Upper Denby – check out our events calendar for more details – https://www.hd8network.co.uk/events
One of their aims last year was to raise money for The Royal Legion. Funds from this years raffle will go towards next years display.
Emma said "We do it for the villagers and to show respect for the brave soldiers from our village that lost their lives in the war".
The HD8 Network is very moved by another example of how the community has come together and produced such a wonderful creative outcome, reaching out and touching the hearts of many others.
So if you are out and about over the next couple of days, you may enjoy a drive up to see the display for yourself.
Lots have said that they get goose bumps.