The Huddersfield Giants Women In Business Lunch Event is a perfect time to come together, make some meaningful connections with other professional women, entrepreneurs, and business owners.
Book your ticket here – https://www.eventbrite.co.uk/e/giants-women-in-business-tickets-488663594967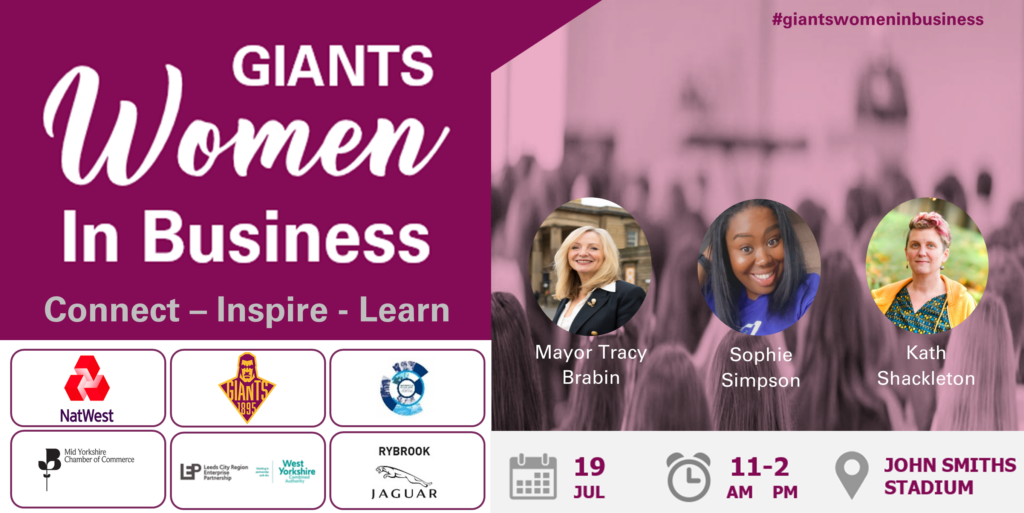 July's event will include some amazing guest speakers from the Creative Industry.
Focusing on their accomplishments through life, business and how they manage each day with some key take outs, hosted by our Giants Women in Business partners.
Agenda:
11:00 Arrival, T&C'S, Brief Networking and Take a Seat
11:30 Introduction
11:45 Guest Speaker – Kath Shackleton
12:00 Guest Speaker – Sophie Simpson
12:15 Top TikTok Tips with Kayleigh Castle
12:25 Guest Speaker – Mayor Tracy Brabin & 'Ask the Mayor'
12:40 Partners Panel
13:00 Buffet Lunch & Networking
14:00 Close
*Agenda subject to change and timings may vary
Guest Speakers;
Kath Shackleton – Producer & Joint Founder of Fettle Animation
Fettle Animation is a multi-award-winning animation studio in Marsden, now in its eleventh year. Clients include the BBC, Children's ITV, The Open University, The Children's Commissioner, West Yorkshire Police, The Environment Agency and the NHS.
Fettle make animation for broadcast, education and business. Twice BAFTA nominated and have won a Japan Prize, Sandford St Martin's Children's Award and seven Royal Television Society Yorkshire Awards.
Kath was selected by Creative England for their prestigious Female Founders accelerator programme as one of 10 female led companies and continues to develop and build opportunities for animation in Yorkshire.
Kath manages all aspects of the animation studio, and is also involved with Kirklees Cultural Leaders Group, Slaithwaite Moonraking Festival and Kirklees Climate Commission.
Sophie Simpson – Co-Founder & Director of Operations at Conscious Youth


Mayor Tracy Brabin – British Labour and Co-operative politician
Tracy Brabin was elected as the first Mayor of West Yorkshire, and the first ever woman Metro Mayor in England, in May 2021.
Prior to her election as Mayor, Tracy was the Member of Parliament for Batley and Spen from 2016 until 2021. As MP, she held appointments as Shadow Early Years Minister, Shadow Secretary of State for Digital, Culture, Media and Sport, and Shadow Minister for Cultural Industries.
Born in Batley, Tracy was an actor and screenwriter prior to entering politics, appearing in several British soap operas and writing for several television series. Tracy now lives in Kirklees, West Yorkshire. She has a husband and two daughters, all of whom work in the creative industries.
There will also be Kayleigh Castle joining the event, giving attendees some top TikTok tips!

Elizabeth Baker will be on hand to take some complimentary head shots for all attendees.
Elizabeth offers both business and personal photography so attendees are asked to take advantage of this incredible offer available on the day.
Some of the team from the NHS Kirklees & Calderdale Charity will be joining us to help raise awareness of the 75th Anniversary of Huddersfield Royal Infirmary.
They will be asking for attendees input into the future of the hospital, advise what they have going on and how attendees can get involved and support.
Huddersfield Giants and Partners will be present at the event and they will be able to provide further information on business support, courses and funding and what's available to grow your business and skill sets.
Huddersfield Giants would like to thank their partners for making this event possible.
There is free parking at the John Smith's stadium. A complimentary buffet lunch will be provided with water and T&C's available. There will not be the facility to buy food or drink at the event.
We kindly ask, due to the current climate and ever rising costs, if you find yourself unable to attend the event, please inform us to cancel your place or you can do so directly on Eventbrite. This will help us to manage food waste and the costs associated with this.
Social Media
Don't forget to follow on LinkedIn 'Giants Women in Business' or join the Giants Women in Business community Facebook page, to stay up to date with the latest news & events and connect with other likeminded women in business.
The hashtag to use for this event and connect with other posting about it is – #GiantsWomeninBusiness
To check out the Events listing on our website please visit –
For more information including contact details for Huddersfield Giants please visit their directory listing here –