Voluntary, community and social enterprise organisations in Kirklees who own or rent buildings in our local places can apply for a grant to recover lost income due to Covid-19 lockdowns and restrictions. Grants of up to £20k are available now to help vital community buildings recover from Covid-19.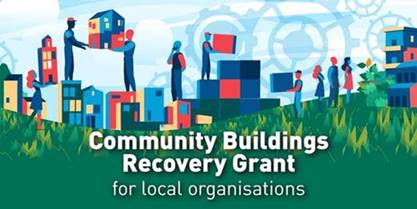 The fund is open for applications from Thursday 20th May to Sunday 6th June. Payments will be made by the end of June 2021.
Who can apply?
The Community Buildings Recovery Grant is available for voluntary, community and social enterprise organisations who work in (and are based in) Kirklees, who were open as usual before the Covid-19 restrictions. The grants are particularly for organisations who own or rent a non-residential property or space that you have been legally required to close and have continued to pay costs for, or where the activities in your building have been significantly impacted by lockdowns and local restrictions.
How to apply
You can find the full eligibility criteria and apply online via the Kirklees Council website, from 9am on Thursday 20th May:
Help for voluntary and community organisations
If you're not sure whether your organisation can apply and would like some advice, please contact:
Email: ThirdSector@kirklees.gov.uk
Tel. 07773 488563