Hello there, I am Mrs Waddington, the Head Teacher here at Birdsedge First School. We have been members of the HD8 Network for nearly a year, and so I thought I would take this opportunity to say hello and tell you more about our amazing school and what makes us so special.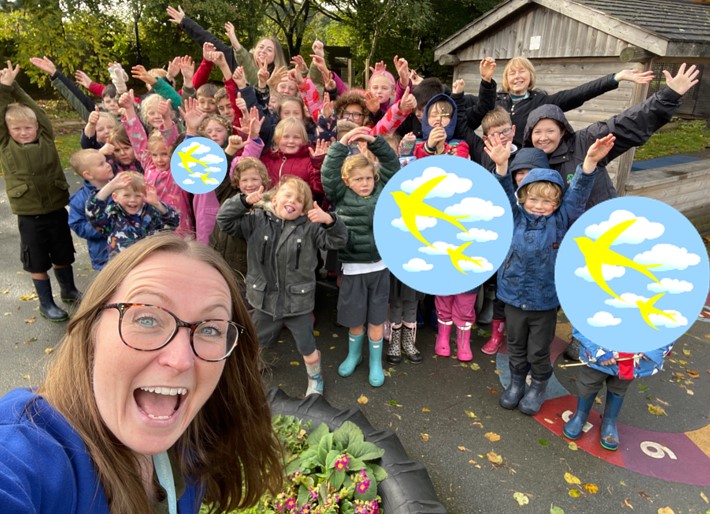 My arrival at Birdsedge in September 2020 could not feel further away and longer ago than the relatively short two years it actually is in reality. Being interviewed remotely, in a school that was closed and at the height of a national pandemic, life in September 2020 really did feel like a different world.
Fast forward to September 2022, where our school is now not only open but so full of life and love, it truly is an unrecognisable place. A place that every day I still feel so lucky to be in and still have to occasionally take a moment to stop and take it all in.
When telling any story, the beginning is always a very good place to start…so here is where mine starts.
From being a child I have always thrown myself 100% into everything I have done and my interview was one of them.
My presentation as part of the process was centered around my vision for creating Birdsedge BEST.
Right from that moment I so strongly believed that Birdsedge should have the best of everything, for every child and its size should not stand in the way of that.
This vision has stayed with me, unchanged throughout the two years here and this year it is wonderful to see that Birdsedge is providing the BEST of everything, for everyone. Something that I just knew we could do together.
The last two years have seen school re-design our whole curriculum, embed a new approach to the teaching of reading and phonics, develop an in house resource provision to support children with additional needs and up-skill and empower staff throughout to provide quality first teaching.
Some incredible achievements, made even more incredible I believe by the small team that have done it.
Being such a small team, we really have had to pull together, be creative to create capacity and adapt and be flexible at times we have needed it. 'In It Together' could not be a truer phrase for the last two years.
Together… something that this journey would not have happened without.
The school team – pupils, staff and families, had quite an unsettled period of time when I arrived.
Arrived like Mary Poppins with a toolbox of experience, a heart so full of optimism and a brain often asking me if we could make it work!
But together we did.
Despite understandable anxieties about the future of the school, this wonderful team put their trust in my vision and stayed loyal to lifting the school up in any way they could. Never, in such a small group of people, have I seen such mighty passion and determination towards a common goal.
Over the two years Summer Holidays have seen parents, children and colleagues giving up their time to fill skips, clear woodland, build chicken coops and transform the school environment into the smart, welcoming and inviting place to learn that it now is.
Every person in this school team truly want the best for school and for our children and it is such an honour to lead an enthusiastic, passionate and supportive team of people.
This extends to The Mast Academy Trust too, who again and again have gone above and beyond to champion our little school and never once lost faith in our ability to achieve and be brilliant.
Small but Mighty is a phrase our children often use to describe their school and they are so right.
We may be small but we certainly have big dreams and we do not stop until we have reached them.
Be sure to watch this space.
We might have had a two-year journey to get here but this is by no means the end…in fact, it is only the beginning for this small school with the big heart.
Birdsedge First is on the map and it is going places!