The HD8 Network has a fabulous online events calendar to promote your events and activities.  We use this platform and our social media communities to tell people who work, rest or play in the HD8 area about them.
It is simple and free for you to list your events, just visit www.HD8network.co.uk/add-your-event/
Event Name

The first thing you will be asked is the event name, for many this will be easy and obvious, however make sure that you make it appealing and informative, as it will appear on a list of events.  So you want to entice and reassure people to click for more information.
When
If you hold regular activities, ie weekly classes, then please don't forget to click "Recurring event".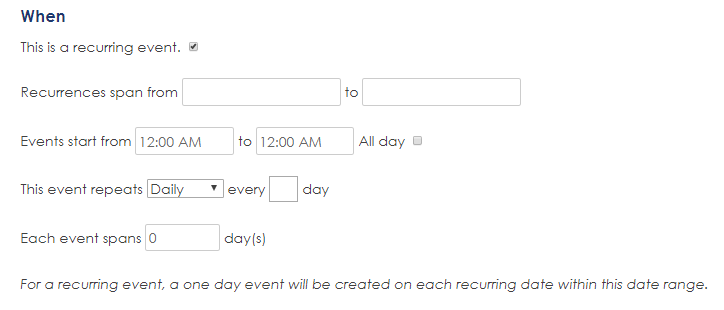 The recurring events function enables you to list weekly or monthly events, or a series of events, for example school holiday sessions.
This function will ask you to enter a start and finish date.  If you run an exercise class for instance and you don't have an end date, please choose a date 6 months or a year ahead, whichever you feel most appropriate for you.
Where possible, if your event comes to an end or changes please remember to let us know, as neither of us want people getting the wrong information.
"This event repeats" If you hold a daily or weekly event etc, then the next part that asks "every" might be confusing, however this is relevant if you hold an event every 3 months or fortnightly for example.
If your event is only held in a day, then it spans no days, but for example a Beer Festival might span 3 days.  If in doubt leave it.
Where

There are already many addresses in the events calendar, so if your address is already listed happy days, you just need to select it.  Otherwise please enter the details including the postcode to help people find you.  If you are holding a webinar or other type of event where you don't have a venue, please click "no physical location".
Don't worry about the map showing the correct place, we will ensure that it is pinpointed correctly when we publish your listing.
Details
Make sure you enter details and description that will help people who find your listing know that it is the right event for them.  Having full and correct information will also help Google to index the link and show up on search engines.  Try to describe what type of event it is and what people can expect.
You might like to add contact details in case they want to ask you any questions or book tickets.  If you sell tickets, tell people how they can buy them.  And don't forget your website and social media channels so that people can follow you and find out more information.
Category
You can list your event under as many categories as you think are appropriate – use the Ctrl button and click for multi-selection – choose as tenuous as you can.  If the category you'd like to use is missing, don't stop completing the form, just let us know now or when we confirm your listing has been published.
Event Image
Similarly if you don't have an image at hand, please still complete the form and send it to us when we confirm your listing has been published or email info@HD8network.co.uk.
Please try and resize your images to about 600 pxls as there is a maximum upload size.  But again don't worry too much about this, if you can email it, we can resize it.
Although please make sure you have the authority and permissions to use images on third party sites.
Then press submit event
When we are notified of the event listing, we will check details and publish the events.  This can take a couple of days (usually quicker though), so please make sure you list your events with plenty of notice.  If you haven't heard from us, please feel free to get in touch to make us aware of the event listing.
Please remember this is your opportunity to sell your event or activity and we can only list what you post, however we might remind you to add an image or contact details.
When you receive the confirmation email please click on the event link, checking that everything looks okay and other links in the event are working and let us know if you have any amends.
We then suggest that you use this event listing to tell more people about it.  We offer a plethora of Facebook Groups which you can join and communicate with people, as well as our Facebook Page and Twitter to mention us in your posts.  We are also on Linkedin, Instagram and Google +.
However we can also provide further promotion of your events –
Posting on our social media communities on your behalf
Boosting the posts on Facebook and Twitter
Including details in our email marketing
Adding an overview (before and/or after the event) in our News Section
We are also connected with other media and publishing agents, so if applicable we could send out information to them on your behalf.
Good luck promoting your event!
If you have any difficulties completing the form or you would like to ask any questions please do not hesitate to get in touch info@HD8network.co.uk or contact via our Facebook Page.  Please also check out our  listing and membership page