Here is an overview of how Village Art, Skelmanthorpe, came about and the progress it has made over the year, explained by Village Art's curator Mike Roberts.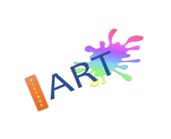 In 2019 Denby Dale Parish Council had their council building redecorated. From being a somewhat grubby place of institutional greens and browns it became a bright, pristine place of what I would describe as dove grey. But…it was dull; large expanses of wall with nothing to alleviate the dove grey.
To the parish council's great credit they readily agreed to utilising the building as an art gallery to supplement the other activities – book groups, U3A meetings and activities, drama rehearsals – and subsequently paid for the hanging facilities. We were also lucky to gain the actor Paul Copley as our patron. From which beginnings was born Village Art.
In October 2019 the gallery was inaugurated with 'Triptych', an exhibition comprising the ink and dye works of Holmfirth based artist Ross Moore; the photography of Gillian Sharp from Shepley; and the personal domestic collection of the curator, Mike Roberts.
Between then and March 2020, when Covid forced the closure of the gallery, Village Art mounted several exhibitions featuring local artists and community art groups, demonstrating a great variety of mediums and styles.
In an effort to keep the Village Art name and ethos alive during the pandemic, in July 2020 we instigated 'Featured Artist', a series on Facebook and Instagram showing the work of a different artist each fortnight. This has proved very successful and, as well as local artists and those from further afield nationally, we have had contributions from Japan, Australia and Italy. The series is still going strong and we hope to continue ir for as long as artists are willing to contribute.
In April this year, after several false starts and much soul-searching, we gained permission from the parish council to re-open the gallery for live exhibitions. Our first show was 'Quartet', with works from painter and musician Simon Wood; photographer Sean Doyle; ceramic artist Krishna Alageswaran; and the Skelmanthorpe and District U3A Art Group.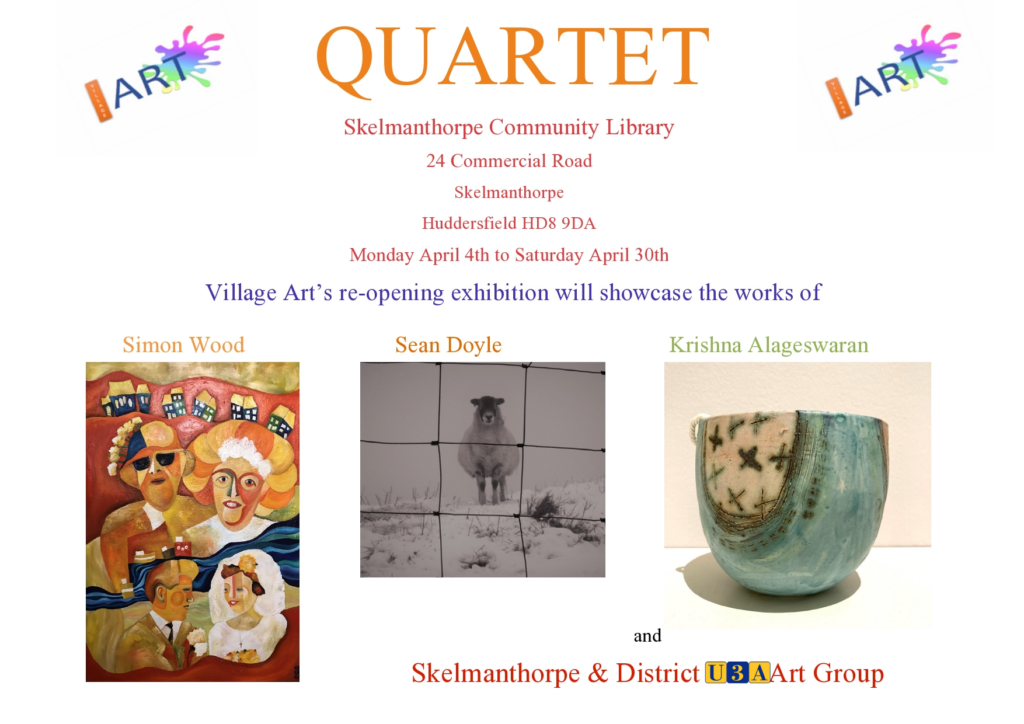 This is to be succeeded by 'Paint, Pen' Pottery, People' opening on Monday 9th May and running until June 4th, with a 'Meet the Artist' preview on Saturday May 7th, 10.30 – 12.30.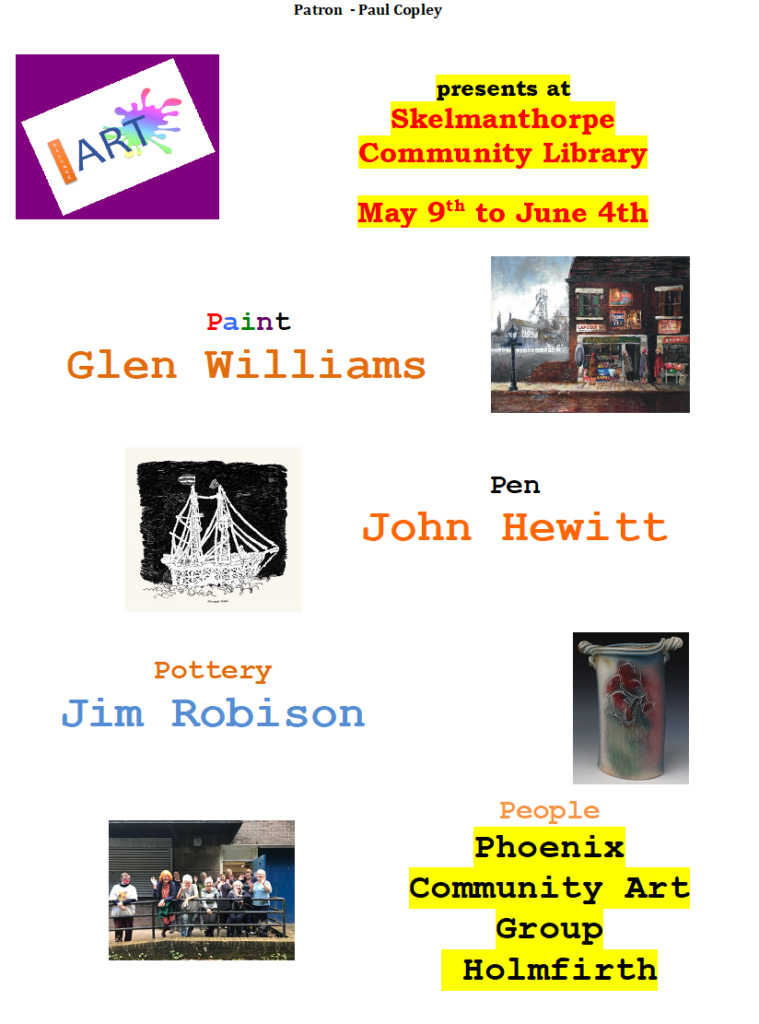 Village Art is entirely a non-profit enterprise, with any income from sales or donations going to The Friends of Skelmanthorpe Community Library, which uses its funds to assist local community groups and causes.
Find out more about Village Art, including their contact details by visiting their directory listing on our website –
And keep checking back to our Events calendar to find out about their current and next exhibitions