The woods between Denby Dale, Birds Edge and Cumberworth.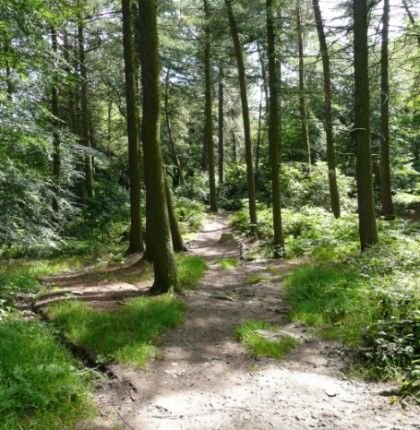 Join us in some of the most attractive woods in the area.
We are a group of volunteers who look after the woods around the River Dearne below Upper Cumberworth. If you haven't already discovered them, they are the woods in the valley to your left as you go up the Barnsley Road (A635) from Denby Dale towards the Sovereign, opposite the council waste site.
Most visitors agree with us that these are lovely woods including, as they do, a wide range of different environments, ancient woodland, beech wood, woodland glades, a pond and several streams.
We enjoy working in these woods, usually going down one or two mornings a month for a couple of hours on a weekend. Our working parties are usually both social and working events and we always have a picnic of cake, a hot drink and a chat. Some of us choose to come practically every time, others pop down now and again, but everyone is equally welcome.
The work we do varies- but may include keeping the paths clear of vegetation, modifying the weirs in the river, so trout can swim upstream, dredging the pond or doing works to encourage the wide range of wildlife.
We try to have both gentle and harder tasks to suit everyone.
We have done bird, insect and flower surveys so we can check how the wildlife changes over time.
We also look after Turpin Hill, a wild flower nature reserve on Barnsley Road near the council tip.
We began by concentrating on the wildlife, but are also investigating the history of the woods.
We have discovered that there was probably a previously unknown water mill on the river and are getting skilled help to excavate some of the remains.
We have also discovered that we had late stone age visitors to the site, as we have found one of their flints which dates back to the time of Stonehenge.
We have a website – https://udwcg2.wordpress.com The website tells more about what we do and gives the dates of our activities.
For working parties we normally meet at the top of Greenwood Lane (opposite to the entrance to the council tip). This is at HD8 8NN, and if we come by car we normally park on the side of Barnsley Road. You will see cars parked when you arrive.
We have meetings on the 2nd Tuesday of each month in Bird's Edge Church Hall- Birdsedge Lane HD88XR at 7:30pm.
Come and visit the woods any time, as access is free, and please pop down and see what we do on one of the working parties, or meetings.
You will be very welcome.