Grant news! Eligible small rural businesses can apply for grant support of between £10,000 and £50,000!
Join the West Yorkshire Combined Authority workshop in Skelmanthorpe, Huddersfield and find out more.
If you are a small business with up to 50 employees based in an eligible rural area in West Yorkshire, you can apply for capital grant funding to benefit your business.
The Rural England Prosperity Fund workshop in Kirklees will take place in person in:
Skelmanthorpe Community Centre, 32A Elm Street, Skelmanthorpe, HD8 9BH 27 November, 17:00 to 20:00
Secure your spot now: https://www.universe.com/events/ukspf-in-west-yorks-rural-england-prosperity-fund-workshop-in-kirklees-tickets-LSBFJV
UKSPF #RuralFund #RuralEnglandProsperityFund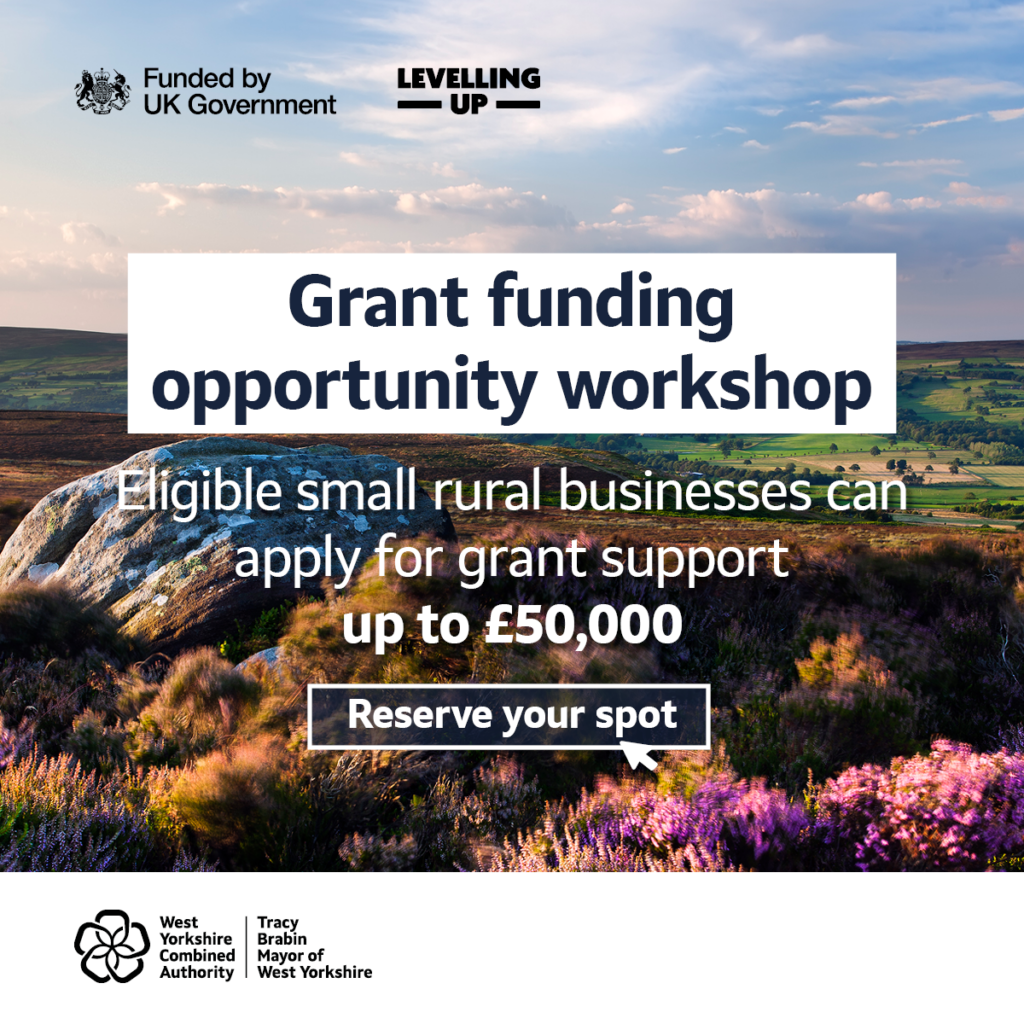 To be eligible, businesses must:
Have fewer than 50 full-time equivalent employees (FTEs).
Be a new start or existing business. This includes social enterprises and charities if they have a trading arm.
Be based in an eligible rural area within West Yorkshire, or the proposed investment/project will take place in an eligible rural area **
Be able to fund the balance of project costs (where applicable).
Demonstrate the financial and commercial viability (where appropriate) of the project and the need for grant support.
The Business Kirklees team can easily check if a business is classed 'Rural' – please email business.enquiries@kirklees.gov.uk asking for an 'REPF eligible area check' and including the business name and postcode. We will confirm back.
Projects must fall into one of the three priority themes:
Business development to implement new innovative technologies, processes, or equipment to improve productivity and competitiveness providing benefits to the wider rural economy,
Food processing for business development but also implementing automation.
Visitor economy / tourism infrastructure to support a mix of business and community infrastructure grants.
Kirklees Business team are keen and available to support interested and eligible businesses through the application process so please ask them to contact us at business.enquiries@kirklees.gov.uk and we will allocate a member of the team to provide 1-1 support.
More information about the Rural England Prosperity Fund is available here: Rural England Prosperity Fund (UKSPF) | West Yorkshire Combined Authority – West Yorkshire Combined Authority (westyorks-ca.gov.uk)
And overall UKSPF opportunities here: UK Shared Prosperity Fund (UKSPF) | West Yorkshire Combined Authority – West Yorkshire Combined Authority (westyorks-ca.gov.uk)