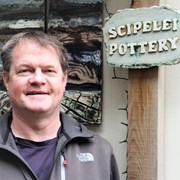 Ceramic artist Nigel Hoyle, seen here outside his studio in Shepley (Scipelei is apparently Old English Shepley), is to open a new exhibition of his wall-hanging work at Holmfirth Tech from Monday April 11th.
The exhibition will provide a tantalising preview of Nigel's offerings as joint featured artist at this years Holmfirth Artweek which runs from July 3rd to 9th in Holmfirth Civic Hall and at Fringe venues throughout the town and the Holme Valley.
This exhibition will be the follow-up for the Tech of it's inaugural exhibition featuring the work of Hepworth Art Group, which ran throughout March.

The Tech centre manager and trustee Simon Turner said, "It's our ambition to establish the Tech as the hub of an eclectic variety of arts, cultural and business activities in the town and in the Holme Valley. We think that this exhibition and those to follow, featuring local community groups as well as prominent local and national artists, will serve to fulfil that ambition."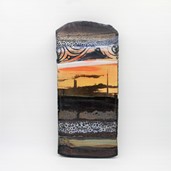 Nigel Hoyle makes slab-built panels, many drawing inspiration from the local landscape, formed by various pieces of surface and texture. This work has seen a fascination with a thick white porcelain slip texture on black glazes, founded during his degree years and developing, evolving, over 30 subsequent years.
"The layers of experience, the abject contrast between elation and disappointment can be extreme on peeking through the narrowly open kiln door. Learning about what just happened and how it can be controlled is the real challenge, one that can never be exhausted".
He has been referred to as a "glazist", something he sees as a great compliment as his aim is to use glaze as a painter applies colour to a canvas.
He has also always enjoyed the process of throwing without being too production orientated, still considering each piece an individual, whether it is a mug or a large vessel.
"The idea of taking a lump of earth and applying energy to it to render it somehow precious is truly an alchemic process".
If you are looking for an exhibition or just something to do, please check out our events calendar. There is lots going on in and around the HD8 area.
Got an event that you want to tell others about? It is free to add it to our events calendar – www.HD8network.co.uk/add-your-event/