Did you know that you can track the amount of traffic you receive from the HD8 Network?
Providing that you use Google Analytics (or similar software) on your website.
Listings on our directory provide information to enable people to get in touch with you.
This includes contact details and links to your social media and website.
The HD8 Network can measure how many views your listing receives. As well as the links that are clicked, the email addresses that have been clicked on to be used, and the downloads that have occurred. Silver or Gold Members receive reports of this activity as part of their membership.
However, did you know that you are also able to measure the activity at your end?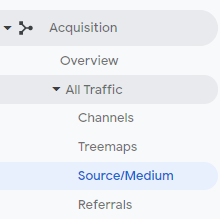 Log into your Google Analytics account; click on Acquisition, All Traffic, Source/Medium.
The traffic from us should show with descriptions like –
HD8network?utm_source=HD8network / Directory_Listing
HD8network / Directory_Listing
During a recent member's account management meeting we were discussing their membership, helping them to optimise their exposure and the traffic that their listing had generated.
This is copy of the report that the member produced in their Google Analytics, which shows the traffic their website has received from us.
If you would like to find out more about the HD8 Network Membership benefits please visit – www.HD8network.co.uk/Join or get in touch.