This Saturday evening, between 6-8.30pm, in Cliffe Woods the community of Clayton West will come together to create a lantern-lit woodland walk, a firestaff display in the Secret Garden, singing from the Clayton West Chorus and storytelling.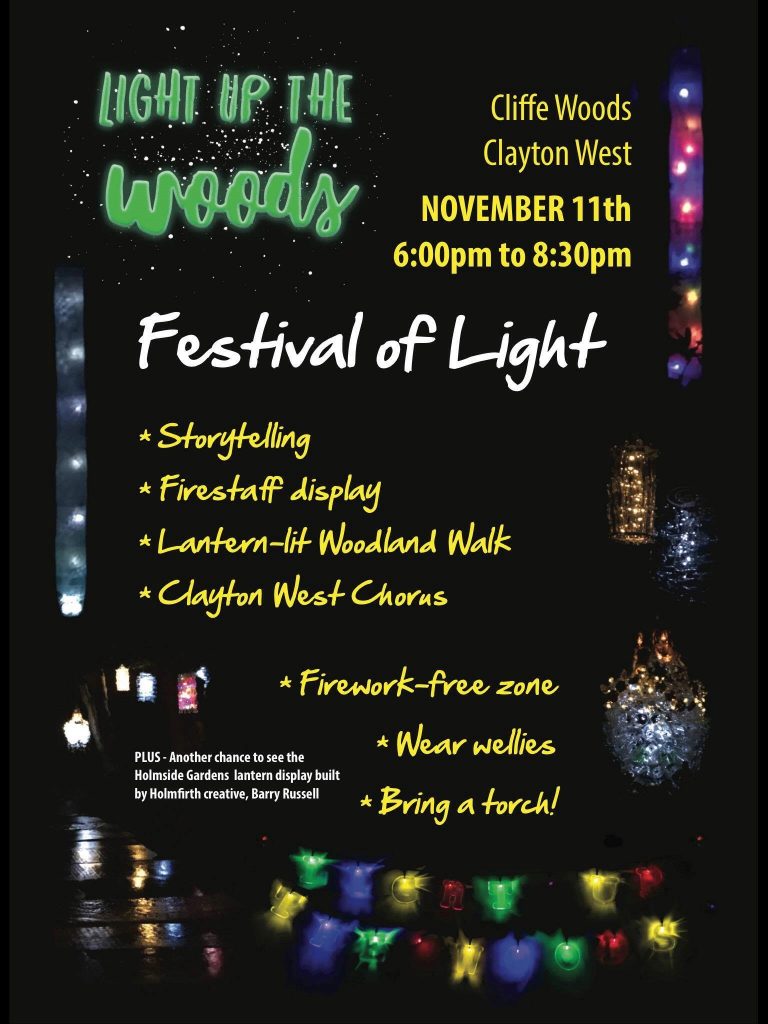 The organisers of the event consist of Cliffe Woods Conservation Group, Made in Clayton West and Upper Dearne Valley Navigators; however the following organisations will also be providing the light installations.
All Saints' Church
Bikeshed Digital Media
Children from Kaye's First & Nursery School
Clayton West Baby & Toddler Group
Clayton West Cubs
Joseph Norton Academy
Kidz Klub
The HD8 Network has sponsored the event by donating glow sticks for attendees and Clayton West Chorus will be performing.It is a firework free zone and you are asked to bring your torch and wellies.
You are also asked to leave your cars at home and walk to Cliffe Woods (obviously this might be difficult if you are coming from further than Clayton West or Scissett, so please be considerate to residents when parking).
Cliffe Street will be the main route for people to access the Woods entrance.  It's the first event of its kind, so we don't know how many people will come along – if everyone and their family that has contributed to the event turn up then the woods will be buzzing.  The weather will be larger contributing factor to success and turn out of the event, but the forecast so far looks good!
The event will be basic in that there will be no refreshments available or toilet facilities provided however there will be an information stand at the entrance of Cliffe Woods, for first aid, lost children, etc.
Come and see what a community can do when they work together!