Do you/your group want to get involved?
On behalf of the event organisers (Cliffe Woods Conservation Group, Made in Clayton West and Upper Dearne Navigators & a number of local residents), you are invited to take part in the third LIght up the Woods event which will be held on Saturday 9th November in Cliffe Woods, Clayton West.
Whilst the event is located in Clayton West, it is a wonderful opportunity for the communities of the Upper Dearne Valley to come together.
Vicki Stratford from Made in Clayton West said "This event has been successfully run for the last two years and has grown each year. We would love you to get involved whether you have done so before or for the first time."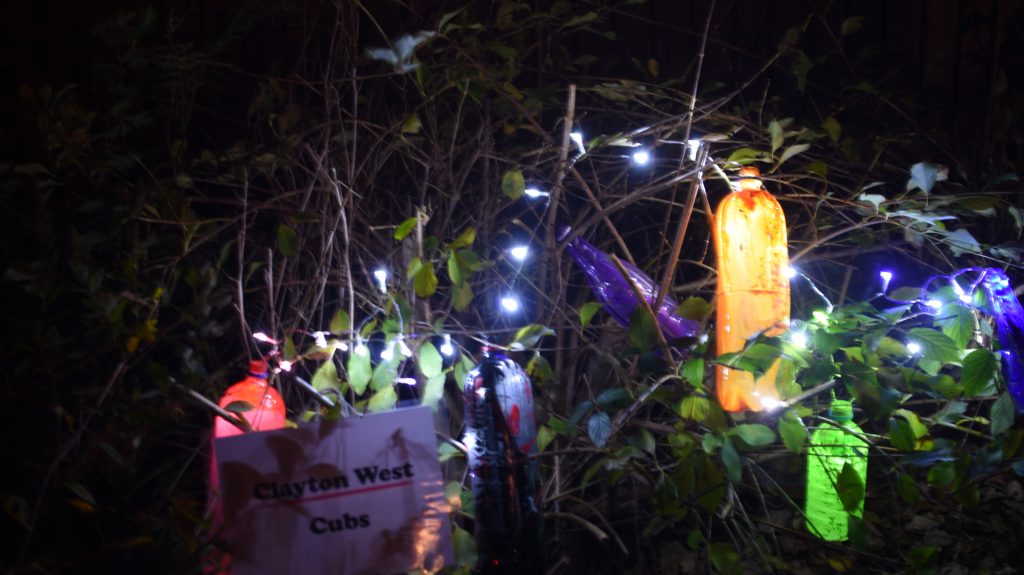 To be involved you/your group simply need to create some amazing lanterns using appropriate safe materials.  Please note – containers made from glass are not suitable.  The lanterns will need to be lit by other means than naked flames & the lighting will need to be effective. Glow sticks are great on their own, but if diffused by paper or plastic their light diminishes considerably. It would not be good for young people making lights and lanterns to be disappointed by poor lighting.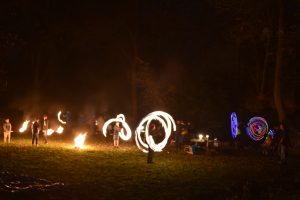 Last year Navigators stepped in and helped out a couple of displays to ensure they had bright lights throughout the event. They do not always have the resources to hand out free lights, so please, take a look at the various options – some of these are re-useable.
Cheap battery light chains, LEDs, LED sticks, LED Candles, etc, but please make sure they will work in the environment of the woods at night.  What works in a darkened room may be lost in the open woods.
If you would like to be involved in this winter spectacular you must email by the end of WEDNESDAY 25th SEPTEMBER 2019. 
It would be great if you could inform roughly what you are planning on doing so it can be factored when allocating available spaces. 
If you were involved last year & would like the same space again you can request this.  However it can't be guaranteed that you will be allocated the same space. 
Please note after 25th September space cannot be guaranteed.
Here are a few important things you need to know.  Apologies if you know them already, if so they can act as a reminder:
This is an organic gathering run by volunteers where each participating group/individual will be responsible for themselves;

The Cliffe Woods Conservation Group & Made in Clayton West have insurance cover for the event;

The Secret Garden area will be used as an arts arena by the Upper Dearne Navigators & will be closed off;

There will  be no sparklers, fireworks, glass or naked flames;

The route will be a circular walk;
No amplified music is permitted;
People coming to the event will be encouraged to walk to the Woods & bring a hand torch.  The car park at the entrance to Cliffe Woods will be closed for the evening.  As in previous years in this area there will be a central hub for questions, lost children & first aid.  There will be adult marshalling throughout the event, including setting up & at closing;
Refreshments will be available again to purchase at the Clayton West Bowling Club by the Clayton West W.I.;
To ensure everyone's safety there will be an Event Management Plan in place which includes an emergency evacuation plan.  An overall site risk assessment will be carried out on the day & just prior to the event starting;
Your group will need to carry out your own risk assessment for the creating & making of your lanterns & delivering them to & from Cliffe Woods on the day of the event;
Children under the age of 10 will need to be accompanied by an adult.  We will be making this clear when promoting the event.  If you promote the event & its details (whether internally or externally of your group) we would expect you to state this fact so everyone coming is clear;
This is a public event in a public space & there will be no control over who is taking photos or how or where they will be used;
There can be assistance available for help with design & ideas. Please just ask us.
ON THE DAY you will need to display your lanterns/light display in the Woods by 4.00pm & switch on the lights at dusk (which will be around 4.00pm).  Please allow plenty of time to put up the displays.  It is also a requirement that you take them down at the end of the evening (from around 8.30pm) & take them away. 
By saying Yes to being involved in the event, you are agreeing to all of the above.  Thus ensuring a successful event for all.
Ewan Scott from the Navigators said "If you have any questions please get in touch, we are more than happy to help.  We want to make this event even more creative and fun for everyone involved."