A networking group for businesses based in the HD8 postcode area has celebrated its first anniversary
A networking group celebrated its first birthday – and pledged it would be the first of many.
Instead of their normal speed networking session, members of the HD8 Network took part in "musical chairs" networking and also enjoyed a game of Pin the Business Card on the Donkey – Jonathan Hill, of Pierrepont, winning a bottle of champagne.
The HD8 Network also arranged for Brockholes-based Oliver James Sugarcraft Creations to bake a birthday cake to help celebrate the landmark event.
Gluten-free cupcakes were also available.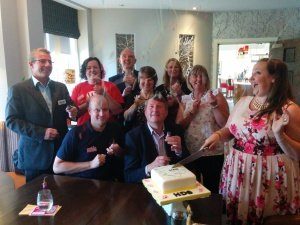 The network – which aims to bring together businesses in the HD8 postcode area – started on Facebook, Twitter and Linkedin last year with networking events beginning a few months later following numerous requests to network face-to-face.
The meetings are held between 5pm and 7pm on the third Tuesday of each month – originally using various locations – but now permanently at the 315 Bar and Restaurant in Lepton between 5pm and 7pm.
Merewyn Sayers, creator of the HD8 Network, said: "Even though promotion is a key to the members of the HD8 Network, it is not the only aim. We are more than that. We are a community of local businesses who meet to discuss our businesses, supporting each other and the HD8 area. I'm thrilled we've reached this one-year milestone and I look forward to holding many more anniversary events."
The HD8 Network has also launched its new website – www.HD8network.co.uk – with a business directory and events section where organisations can submit their details to the website. The network also posts this information on its social media profiles.