I don't know if our word has anything to do with anything, but the HD8 Network would like to take its hat off to some amazing emerging business women in the HD8 area.
Ellen Wilkinson with her fabulous on trend clothes shop, Sophia Rita Boutique, featuring womenswear, footwear and accessories.
Ellen has adapted and pivoted like a dream during this time, whilst juggling homeschooling of TWO children under 5.
The Boutique can be found in Nortonthorpe Mills in Scissett, and was due to open just after the announcement of lockdown; after months of careful, strategic planning and organising.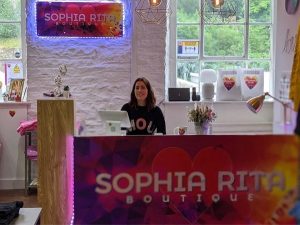 So instead Ellen launched the business on Facebook and Instagram, selling items virtually and thankfully (well quite rightly) has so far made a massive success.
The doors of the boutique are now wide open and welcoming you to revitalise your wardrobe.
Well done Ellen you should be very proud of yourself!
And of course, there is the force to be reckoned with – Jayne Adamson #hatsoff #massivefan
Jayne had embraced self empowerment (that was a mistype, but I like it, so it's staying in) like myself.  If you're going to set up a business, you might as well do two at the same time!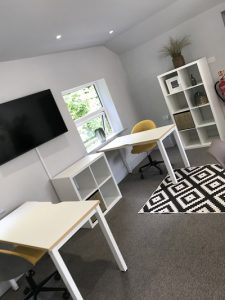 She has seen a gap in the market – a professional place to work and meet in the HD8 area – and gone for it and created the Flex Collective in Denby Dale.
Jayne has quite rightly remarked in the past that there are loads of nice cafes in the area with amazing views and refreshments, but they are not always the professional setting without distractions that is required.
The Flex Collective can be booked by the day and for meetings, and have been running training sessions recently to help local business owners.  Visit their listing on our website here
Well done ladies!
You're doing an amazing job!  Especially "during this time"
PS – as new businesses they probably didn't qualify for ANY OF THE GOVERNMENT SUPPORT available during Covid and lockdown.
Not the council led grants for businesses with PROPERTY, including possibly either of the discretionary grants (which again just offers support to businesses with property).
They won't have had a history of accounts and so won't be eligible for SEISS (Self employed income support scheme) if they are classed as self employed.
If they had the legal structure of a Limited Company, they still wouldn't have got anything, apart from the option to furlough themselves – but like we mentioned there was no employment history to base this on and if they had of been able to take this option, it would have quite possibly kissed goodbye to any of their hopes and dreams, as under furlough you're not able to do any work – especially not income generating.
Instead they have striven on admirably …
… despite the amounting costs of stock, furniture, property, legal fees, utilities and all the other endless bills associated with running a business, with reduced or diminished public confidence to go out and shop or be around others and both having children not at school that also need occupying.
((Btw – if you don't agree about the situation of these ladies and other, let's say the Forgotten. Please get in touch with your MP, the FSB and others that need to hear your voice and examples to help argue the case) rant over …)
Go on girls!
Please support these wonderful women and all the other local businesses by spreading the word, celebrate them publicly and most importantly spend your money with them!