Has your business been closed or seriously affected by coronavirus?
Are you considering staff redundancies? 
The Government's Coronavirus Job Retention Scheme could help.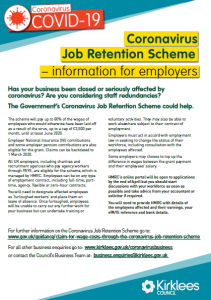 The Coronavirus Job Retention Scheme will pay up to 80% of the wages of employees who would otherwise have been laid off as a result of the virus, up to a cap of £2,500 per month.
Further details are included in the attached flyer and at www.kirklees.gov.uk/coronavirusbusiness.
This website includes information on the full range of support available for businesses and the self-employed to help mitigate the impact of the COVID-19 virus.
Kirklees Council understands that the COVID-19 pandemic is a time of great uncertainty and difficulty for business of all sizes and in all sectors. We are committed to working together with key partners in the private sector to maintain jobs and investment in the District.
Kind regards
Kirklees Council Business Team
business.enquiries@kirklees.gov.uk