Local Dog Lovers Help Change and Enrich Lives
Local dog sitters, Barking Mad Huddersfield & Halifax, are asking fellow dog lovers to join them in helping to change lives.
The dog holiday specialists have officially partnered with Dogs for Good, a life transforming charity which creates partnerships between people living with disability and specially trained assistance dogs.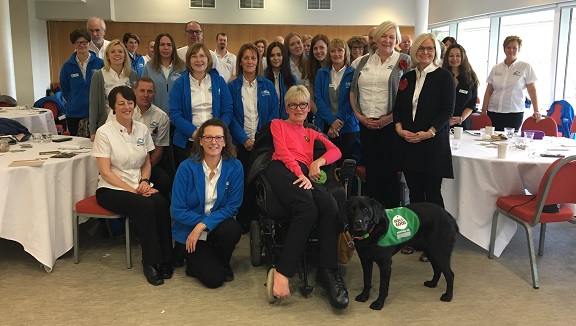 Mark Abbott of Huddersfield & Halifax enthused "We are so proud to announce that Dogs for Good is Barking Mad's chosen charity for 2018! Dogs for Good train assistance dogs to support adults and children with a wide range of disabilities and also children with autism, in order to enrich and improve lives. This is particularly relevant to the work which we undertake with our own dog sitting Host Community. We offer the opportunity to care for someone else's dog whilst its owners are away and through this initiative, we witness the amazing difference that canine companions can make in terms of improving social interaction and fitness every day."
Cathryn Simpson, Corporate Partnerships Manager for Dogs for Good said 'We're absolutely delighted to be working with Barking Mad in 2018, there's obvious synergy between the two organisations in respect of the dogs but more importantly the ethos of both organisations is closely matched and this is important to ensure a successful partnership. Thank you to everyone for getting involved!"
How can you get involved?
Barking Mad Huddersfield & Halifax's ultimate wish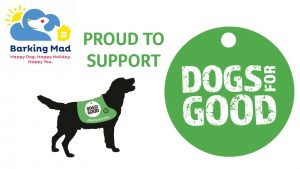 would be to raise enough money to fund the training of a Dogs for Good puppy and would really appreciate your help!
Throughout 2018 they plan to hold fundraising events including and would love to hear from you if you would like to get involved.
Mark Abbott can be contacted on 01484 599420 and you can also visit https://www.barkingmad.uk.com/franchisees/huddersfield-halifax/ to find out more.
In the new year they will also be introducing an initiative to enable customers to make a voluntary donation of a pound, with every booking made with their dog home boarding service.
Barking Mad is part of the Franchise Brands plc group of companies and is the UK's favourite dog holiday company, as verified by TrustPilot. Contact Barking Mad at www.barkingmad.uk.com to find your dog's home from home today.
Want to find out more?
Visit Barking Mad's listing on the HD8 Network – https://www.hd8network.co.uk/directory/barking-mad-huddersfield-halifax/
Want to find out how you can share news about your organisation?
Then visit our "join" page which details our listing and membership information or get in touch for a chat.
Want to list your events on our FREE Events Calendar?
Then complete your details on this form and submit them for us to publish.