Date
Thursday 7th October 2021
About
This week our Sayers Solutions is speaking at 12.30pm at the West Yorkshire Expo, happening at Cedar Court Huddersfield.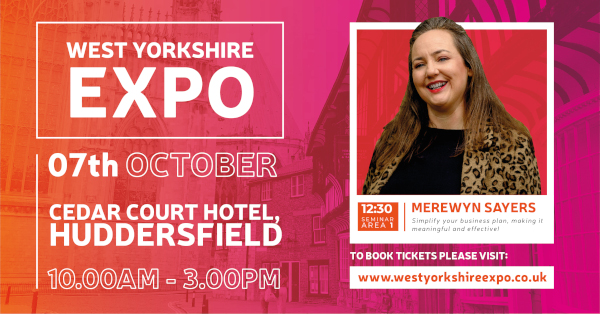 Merewyn will take you through Sayers Solutions '4 Part Plan' to help you "Simplify your business plan, making it meaningful and effective"
A business plan is not just for accessing funding, it is an essential part of running a successful business. It is a vital tool to keep you motivated, focused and fully informed.
It keeps you in touch with what your business does and why, making sure you're catering for your customer's needs.
Sayers Solutions has found during her extensive time working with small businesses, that the majority just work day-to-day. Whilst they know the answers and information required for the business plan, many don't go to the extent of documenting it or exploring further.
Due to this, Sayers Solutions has simplified the business plan, helping you focus on the 4 key areas, keeping it relevant to you and your business's needs.
This plan can be completed on the back of a fag packet or compiled into a bound and finished dossier.
However, the most important lesson is that it should not be a one-off exercise. The plan should be ever evolving; a constantly reviewed and updated exercise.
Find out more about Sayers Solutions including contact details here –
As well as a number of other speakers, the West Yorkshire Expo will have exhibitors and plenty of opportunity to network with others.