Tinsel Tuesday is fancy dress with a festive twist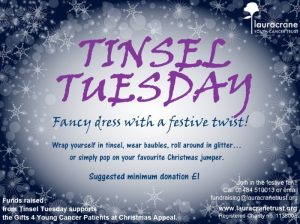 Decorating the tree is a special moment for most families… so the Laura Crane Youth Cancer Trust wants to spread the joy even further by asking Huddersfield businesses to encourage their staff to decorate themselves like a Christmas tree for one Tuesday in December!
Wrap yourself in tinsel, wear baubles, roll around in glitter…anything goes!
Choose on one Tuesday in December, so either the 4th, 11th or 18th and send the charity your photos for social media!
Suggested minimum donation £1 with all funds raised going to the Gifts 4 young cancer patients Christmas appeal.