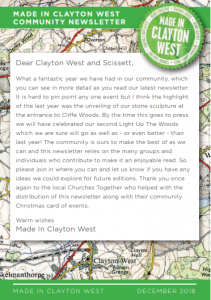 Hi! We are 'Made in Clayton West'.
We are a community network set up by 3 friends a few years ago.
Made in Clayton West is all about bringing people together around their interests, building community spirit and shining a light on all the fabulous stuff that happens in our community and our newsletter does just that!
Click here to download the Made in Clayton West newsletter
You can also find out about what's going on locally by visiting our Facebook page – Made in Clayton West.
We hope you enjoy reading it and please get in touch if you have any comments.