Prepare to get 2019 off to a brilliant start with hints and tips on getting more sales.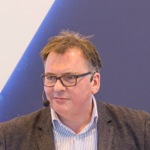 Our speaker this month is Paul Simpson from The Business Hub UK who will be sharing strategies on helping you increase sales and plan to grow your business.
Paul Simpson works with all sizes of business to achieve.
Achieve what? Well that up to you, helping businesses in a practical and pragmatic way learn how to create a business so the owners can enjoy the life they ultimately want and desire.
Building sales is the major challenge for many SME. Paul Simpson has owned and run several businesses, experiencing life at the coal face and now passes his wisdom on to you.