The HD8 Network is calling for more local investment to help businesses across rural Kirklees realise the full potential of the digital economy.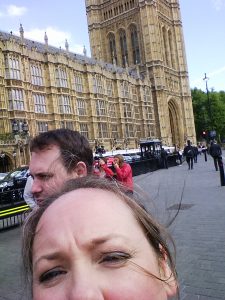 Speaking at a high-level round-table at the European Commission in London this week, HD8 Network's founder Merewyn Sayers expressed concern that rural businesses are being sidelined in favour of those in urban centres such as Huddersfield, Leeds, Manchester and Sheffield.
This creates a two-tier digital economy with an additional negative impact on rural communities and residents. If access to high speed internet allows more people to work and run businesses from home, they will spend their money in local shops and businesses, creating more local jobs, and contributing to a more sustainable economy. The last thing rural areas want to be is commuter belt.
Merewyn said "The real challenge for the digital economy is how we get traditional non-digital businesses – the butcher, hairdresser, local producer, small manufacturer – online, and trading well."
"The digital economy hasn't really started in rural Kirklees. Lack of decent broadband is one issue. But we also need more investment to show businesses what can be done online and how they can improve their e skills."
The round-table at Europe House in Westminster was organised as part of an EU-funded initiative looking into the role of the digital economy in Holmfirth and the Denby Dale areas. E RADAR's Will Roebuck, who come from Shepley led the initiative, dubbed "DigiChampz" to help tease out some of the challenges the Commission still faces in order to complete the digital single market.
Will said "The new Digital Commissioner has announced that he wants to narrow the gap between urban and rural digital economies. We need to adopt a 'grassroots approach' to ensure everyone benefits from the online revolution."
"I strongly urge Kirklees Council to review its economic plan. It fails to address the value of our rural areas or to maximize a strategy for realizing the opportunities and benefits of the digital economy.
A full report on the DigiChampz Initiative will be available next month. Meanwhile, the HD8 Network, E RADAR and DigiChampz are continuing to look at the challenges and issues raised during the initiative and into ways that they can get local businesses involved to improve the situation.