As many of you will know, Sunday 26th April was supposed to be the London Marathon but instead it's now the 2.6 challenge day.
The Huddersfield Giants Community Trust are asking for support in the 2.6 challenge to help UK charities, like themselves, through the pandemic.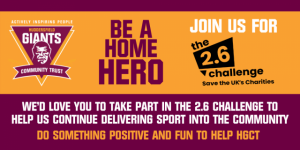 The idea is to create a 2.6 challenge using the numbers 2 & 6 whether its walking 2.6 miles, 26 star jumps or having a zoom call with 26 people doing an activity 26 times.
HGCT is asking everyone to get involved and share their challenges on social media, donating to help keep us continuing our good work in the community.
Please take a look at their website for more information – https://hgct.co.uk/be-a-2-6-hero/
Huddersfield Giants Community Trust is a registered charity and non-profit making organisation.  Using the influence of professional sport, the trust is responsible for all community sports and educational activities on behalf of Huddersfield Giants Rugby League.
The charity uses the power of sport to inspire people of all ages and abilities through four key areas: Sport, Education, Health and Social Inclusion. The Trust engages with over 200,000 people every year through sports coaching within The Zone, local schools, grassroots clubs and the wider community.
Within their home The Zone, the Trust also provides further opportunities for the community, including their own post 16 Education facility which provides students with the opportunity for further study. HGCT also delivers the NCS programme to hundreds of youngsters across the region every year.
For Huddersfield Giants Community Trust's contact details please check out their listing on our directory –