We all have those things we say regularly … In my personal life its "no, its not Welsh" #ifyouknowyouknow … And while introducing the HD8 Network its "no, not the magazine!".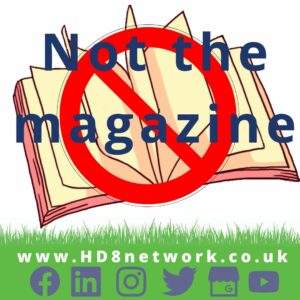 The HD8 Network is NOT the free magazine posted through letterbox, which costs like £300 a month to advertise in … with a minimum 2 months booking …
The HD8 Network's main feature is our website, which doesn't get put straight into the recycle bin, and replaced monthly, but gets exposure again and again, over and over.
Businesses can be found – not just while on our website but also through Google Searches, assisting with your own SEO & domain authority.
The website has a directory, a news section and an events calendar, as well as pages for each HD8 village.
To further increase your exposure and build relationships, we run a number of social media channels, as well as monthly business networking events and have a subscribed mailing list to which we send newsEletters and reminders.
Membership starts at WHOPPING £30 for the year (free for non profit organisations) and our most expensive package is £475 FOR THE YEAR, where you receive monthly account manager meetings (Essentially mini marketing manager sessions, helping you to get the best out of your membership, find and even write your story)
PLUS!! You receive analytics to show how many pageviews your listing has received, as well as outbound links (for example to your own website, social media page, telephone number and email address).
We also send weekly top ten reports of most viewed businesses, news articles, events listings and outbound clicks.
On top of that, we help to support the community we work and live in, by offering subsidised membership (ie free) to community groups and charities. (see our post earlier in the week).
AND we live and work in the HD8 area, so really care what happens here and are not a faceless out of area organisation.
#HD8 #Huddersfield #WestYorkshire #supportLocal #supportRural #supportSmallBusiness #Ilovesmallbusiness #shoplocal
Want to find out more, visit our Join page or contact us for a chat.
You can contact us by phone, email, social media or even use the chat function on the bottom right corner of the website – its us and not a robot!