Our next networking event will be on Tuesday 14th November.
Joining us at the Coffee Loft in Scissett, Krishna Patel, of Dilishque Curry Paste, Your Indian Pantry in a Pot, will share with you her story of how a curry paste that was originally made for her has now become a family business.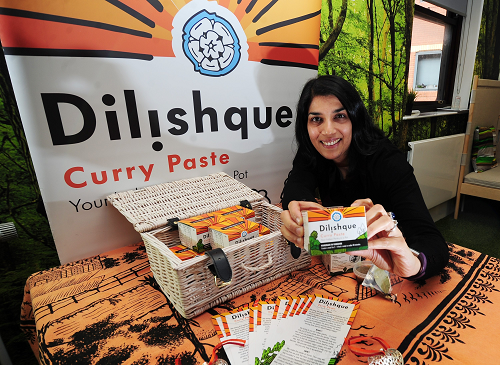 Research shows that to capture attention and gain shelf space; large manufactures are mimicking smaller nostalgic traditional brands. Krishna say's "We have the knowledge and patience for blending spices which has been passed down through generations establishing a strong heritage." However, this versatile curry paste was not originally made for commercial use.
The challenges that Krishna and her mother faced when producing homemade meals has led to the product they have today and help solve some of their customers and consumers challenges:
Knowledge of blending spices and creating an authentic tasting curry
Lack of time – planning meals, shopping for individual ingredients and cooking
With 23 million curry lovers in the UK, Dilishque Curry Paste is well placed to solve the challenge of making authentic tasting curries when you are pressed for time.
Since launching in 2015 Dilishque Curry Paste has sold through their website, Food & Drink Festivals and curry demonstrations, where people have a chance to "try before you buy".
She will explain why it was made and the process of validating the idea and how to use such a versatile product.
Also at the networking event, we will be speed networking; giving you the chance to have a 5 minute conversation with at least half the people in the room.
There will be plenty of opportunity to informally network with the other local businesses in the room.  Towards the end of the meeting there is the chance to have lunch with us, if you wish to, please order on arrival.
Tickets are £10 for non-members and £5 for members
Tuesday 14th November – Coffee Loft and Tapas Bar, Scissett, HD8 9JZ
Before the networking event we will also be holding a free workshop to show you how you can promote your business in the HD8 area.
Booking for the workshop is compulsory and there are limited space.  To book your ticket please visit – www.PromoteonHD8.Eventbrite.co.uk