It's Mad Friday 2020 and the pubs are not allowed to open.
We have been out over the last week, hand delivering our Christmas Postcards – because nothing says Christmas like a postcard … And it's broken our heart not being able to go into the pubs, restaurants and cafes to hand deliver our postcards.
Many other organisations have been affected, either being able to, or restricted in how they are able to trade.
The situation was especially heightened when trying to deliver to churches and community centres – most of whom don't appear to have letter boxes by the way.
Please support these organisations wherever you can.
Earlier in the year we inspired by the Unpretentious Network, who have run superb networking events throughout #thistime and asked for you to simply buy them a coffee via @kofi_button.
So, we created our own Kofi button and welcome you to donate to a fund to be used to support these organisations.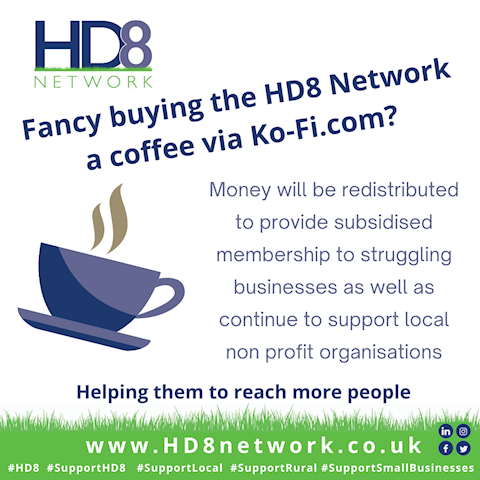 To support this campaign please buy the organisation at the heart of our communities a coffee, a pint, maybe a round.
If you are one of the #affected organisations, please get in touch and let us know how we can support you during these extremely hard times. Tell us why you deserve it and what you can do in reciprocation and we can talk free membership during these tough times.
Want to shop local and buy amazing Christmas gifts? Visit our Virtual High Street and watch our HD8 does QVC on our YouTube Channel.
Or catch up with us on the variety of social media platforms we chat and share on.