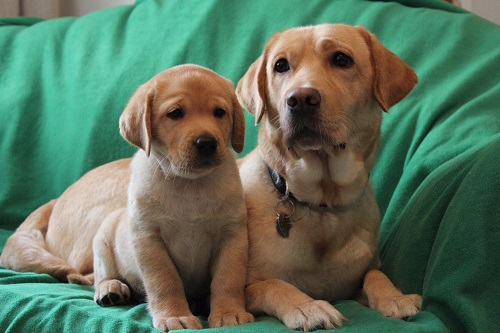 In today's pet friendly climate, dogs appear to be being made welcome in more ways than ever.
Fancy a coffee with your pooch in tow? – Just visit a dog friendly café.
Want to book a holiday? – You will be astounded at the sheer volume of accommodation that now welcomes our four legged friends.
There are limits however, or are there? Some forward thinking companies, such as Google, are now allowing employees to bring sociable dogs to work in their head-quarters all year round, a sentiment endorsed by local dog sitters, Barking Mad Huddersfield & Halifax whose dogs Bertie, Basil, Ollie, Oscar & Daisy May plays a real role in their business.
For everyone else, whose employers might not normally be so dog friendly, the UK's fifth official Bring Your Dog to Work Day will take place on Friday 22nd June, encouraging businesses to welcome employees' canine companions into the workplace just for one day, to raise money for charity.
The event was founded by and is organised by ethical dog grooming product company, HOWND and aims to raise money for All Dogs Matter, Animals Asia and other charities chosen by participants. www.bringyourdogtoworkday.co.uk states, of the benefits of taking part:
"Many scientific studies have concluded that the presence of pets can substantially reduce a person's stress level in the workplace. Increased job satisfaction, team co-operation and morale have all been reported in employees that spend the workday with their pets."
A study published by the International Journal of Workplace Health Management (2010) adds weight to this argument, by concluding that the presence of dogs in the work place even had a positive effect on those employees who didn't have a dog of their own.
As you might expect, 5* rated dog sitters, Barking Mad Huddersfield & Halifax are a huge advocate and official sponsor of the special day. Owner/operator, Mark Abbott says: "We love the idea of being able to take your four legged best friend to work with you. Bring Your Dog to Work Day is a fantastic way to raise funds for animal charities and promote the positive effects of spending time with dogs.
We would also like to make people aware that if you don't currently have a dog of your own and feel like you are missing out on companionship, exercise and fun, we offer a volunteer opportunity to be a host for dogs whose owners on holiday. Our hosts experience all the benefits of dog ownership without the full time commitment and with the reassurance of 24/7 support. Insurance, administration and transport are also all taken care of. We'd love to chat to you on -1484 599420 if you feel that this opportunity could benefit your life."
Barking Mad is part of the Franchise Brands plc group of companies and is the UK's favourite dog holiday company, as verified by TrustPilot.
Contact Barking Mad at www.barkingmad.uk.com to find your dog's home from home today.