Partners in Management Ltd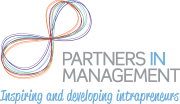 Inspiring and developing Intrapreneurs.
The stereotypes of managers, leaders and entrepreneurs are all so last century!
Intrapreneurship is the new 21st century leaderships model and is as applicable to micro-business start ups as it is huge public sector organisations – and all options inbetween.
We run time and cost effective development programmes in Huddersfield that are nationally recognised by the Chartered Management Institute, potentially funded up to 50% and can lead to a masters level qualification if required.