ENJO UK with Rachel Devereux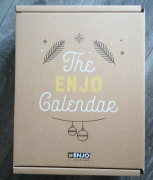 ENJO UK with Rachel Devereux offers:

---
The Skincare range – From clean makeup brushes to the ultimate cleanse and exfoliate, a gift of ENJO Skincare is always appreciated.
Perfect skin mit just £19 for 2, effortlessly removes even waterproof mascara
Party Go-er £29, a make-up brush cleaner, facial exfoliator and a handy make-up bag.
Face cleansing Flamingo £27, this allows you to exfoliate faces and sensitive areas without the need for microbeads or chemicals.
Love Birds – Body gloves in Blush and Midnight £57, lasting 3 years you may not need to buy any shower gel again! However, you can always use this glove to help what you use go further too!
On the go, a handy super soft, super absorbent towel and a skin care wipe. Perfect for parents with young children. I am never without one of these! They are amazing for cleaning sticky or paint covered hands, or faces at meal times. £28.
For the tech, gadget and hobby lovers.
High tech clean – our superior lens cloth that lifts smudges and finger prints from glass or gloss surfaces, helping them sparkle and not distract from play. £15
Winter Wizard – great for outdoor hobbies or to clean the stove glass, get this for those who love their bikes, cars, boats or gardens £37.
Dinner Party Thank You – the best crumb cloth you will ever use, cleans up surfaces in no time, amazing for anyone who loves the kitchen, baking with kids or in the weaning stages! And the most absorbent tea towel I have ever used. £32
Hand bag SOS – for oops and spills, this textile glove is for removing lifes little mishaps – red wine on your carpet – no bother with this. £20
And because the kids just love helping us clean, the Santas little helpers are £9 each – Dust or Outdoor – or buy as a pair for £16.
About ENJO UK with Rachel Devereux
Easy Eco Cleaning. I hated cleaning, it made my hands sore, my chest hurt, the products never worked like they did on the adverts, and honestly I left it too long in between because things only get dirty again.
Now cleaning is easy, I'm saving money, my glass is effortlessly streak free and its actually 6 times cleaner.
And I share how I get amazing results with you.